Bacardi Martini Grey Goose Production
Bacardi Martini Grey Goose Production
More about Bacardi Martini Grey Goose Production
Status
Operational
Established:
2001
Owner:
Bacardi Limited
Capacity:
Not supplied
Visitor Policy:
Not generally accessible
Tel:
+33 5 4580 0410
Website:
http://www.greygoose.com
One of the original luxury vodka brands, Grey Goose is made from the same soft winter wheat used to make the best French bread. Its production starts in the wheat fields of northern France and ends in the Grande Champagne region of Cognac with local spring water. It's a production process that stands up to scrutiny and its creation is testament to the craft of one man and the vision of another.
11 Route Laubaret (off N141)
Gensac-la-Pallue
Angoulême
16130
France
Logis du Fresne, a stunning 17th century country manor house is a long way from being a "visitor centre" but it is the spiritual home of Grey Goose and a place where less than 1,000 lucky guests are invited to this exclusive residence each year to learn more about the vodka and the region where it's made.
Situated in Juillac-le-Coq, in the heart of France's Cognac region, close to Grey Goose's blending and bottling facility, Le Logis lies within cognac's top cru, Grande Champagne.
With origins dating back to 1000AD, and the home to the Counts of Angoulême, this pale stone manor required two years' renovation and refurbishment to bring it up to a level of refined luxury befitting the home of Grey Goose.
No two 14 bedrooms are alike, each themed around how Grey Goose is made and enjoyed. For example, one room, 'La Picardie', is inspired by the region of northern France where the wheat used to make Grey Goose is grown. While luxurious, none of the rooms has a television or telephone, as the aim of Le Logis is to 'immerse' people in Grey Goose, its production and the cocktail culture that it plays such an important role in.
To properly get to know someone you need to visit their home and that is very much the concept behind Le Logis. And this is a very welcoming home, complete with swimming pool, gourmet kitchen, petanque strip and even a pet dog. If lucky enough to be invited to stay here you are also likely to be given a lesson in bread making, your dough made using the same soft winter wheat that goes into Grey Goose.
Lying in the heart of Grande Champagne, the house is surrounded by vineyards, those immediately in front of Le Logis are used to make the cognac used in the blending of Grey Goose VX.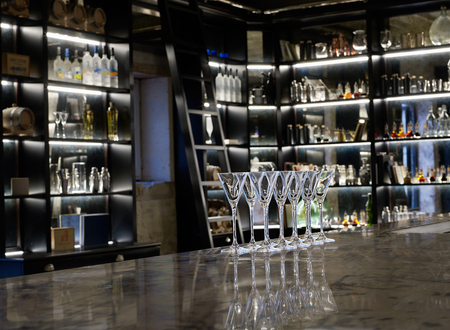 Address: Le Frêne, 16130, Juillac-le-Coq, France