More about Lucas Bols Distillery
Established in 1575, Lucas Bols is the world's oldest distilled spirits company, making liqueurs and genever by combining centuries-old recipes, natural ingredients and traditional flavour-extraction methods. For 379 of those years, Lucas Bols was run by three successive families. Then it went through a series of mergers and acquisitions, finally re-emerging as an independent company, once again in Dutch hands.
Pijlsteeg 31
Amsterdam
1012 HH
Netherlands
House of Bols
Bols Cocktail & Genever Experience is open to the public without the need to pre-book. This tells the story of Bols from 1575 to the present day with interactive displays covering the ingredients Bols use to make their products in the Hall of Taste, The Art of Distilling and Genever. Interactive screens help you choose your perfect cocktail which is then served to you in the House of Bols bar. Lastly there's the Bols Shop where you can buy all of Bols liqueurs and genevers and even a diffordsguide book.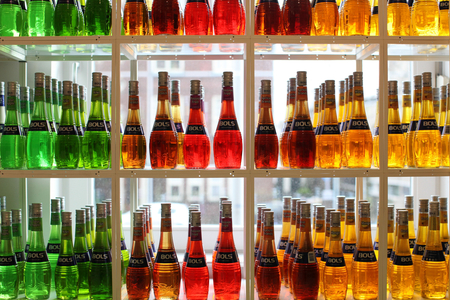 House of Bols
Paulus Potterstraat 14 (opposite the Van Gogh museum)
1071 CZ Amsterdam
Hours: Sat-Mon noon-6pm; Tue closed; Wed-Thu noon-6pm; Fri noon-10pm
Minimum age requirement: 18 years old
www.houseofbols.com