diffordsguide Cocktails
Buy from amazon

The ultimate cocktail book - everyone needs diffordsguide cocktails. Jamie Oliver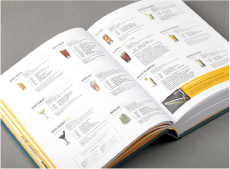 This latest edition of diffordsguide Cocktails contains 3,000 recipes, each accompanied by a full-colour photograph, a succinct comment and a quality rating on a scale of 1 to 5. Designed for professional bartenders and home enthusiasts alike, it's an indispensable guide to cocktails; from the classics to contemporary drinks from the world's top bars.
This encyclopaedic work also includes:
A guide to bartending basics and advanced mixology techniques
Help with choosing and using glassware
More than 500 cocktails made with 14 key ingredients
Essential juices and mixers, fridge and larder essentials
A to Z listings: recipes from the A1 cocktail to the Zubway
diffordsguide was established in 2001 and has grown to become one of the most complete and authoritative cocktail publications available.
It has built a loyal following amongst the top international bartending fraternity, discerning drinkers and keen amateur mixologists.
diffordsguide Gin
Buy from amazon

Now Gin has it's own geek's bible, diffordsguide Gin. Alan Jenkins, Observer Food Monthly
In diffordsguide Gin you'll find a detailed history of the rollercoaster ride gin has taken over the centuries, a full explanation of gin styles and production methods, in-depth reports on many distilleries and production and tasting notes on nearly 175 different gins. It is a true celebration of what is arguably the world's most dynamic and fashionable spirit.
diffordsguide Gin includes:
A wealth of encyclopaedic information for keen amateurs and drinks professionals alike
A spotlight on the craft gin distilling movement as well as larger, more established gin producers
Interviews and quotes from some of the most well-known characters in the world of gin
Contrasting detail of cutting-edge production technologies with centuries-old techniques and traditions
A call for London Dry Gin to be recognised as a protected appellation that acknowledges­ the city's role in today's drinking culture