Athens bar and city guide
Athens bar and city guide
Words by Eleni Nikoloulia, Denny Kallivoka & Simon Difford
The Acropolis sits atop the hill overlooking the city with other ancient ruins seemingly on every corner. Athens is both warm in the locals' friendly welcome and its very clement weather. The central area, in the shadow of the Parthenon, is easily navigated on foot and boasts some of the world's best bars – its narrow streets and flea markets interesting to browse and shaded from the intense sun.
Be sure to walk around the Acropolis rather than simply staring up at it in awe from the streets below. The best times to visit are first thing in the morning, to avoid the heat and crowds, or early evening to catch the sunset. Wear comfortable, rubber-soled shoes as the worn stone walkways are slippery and steep.
Also walk around Plaka, the area directly under the Acropolis - it's touristy yet attractive - particularly Anafiotika, the upper area with its painted houses. For more sightseeing tips see further down this page, but this is Difford's Guide so first follows our tips on what and where to drink.
Drinking in Athens
You'll find everybody working in hospitality speaks great English - indeed pretty much everybody you meet in Athens seems to be as happy speaking English as they do Greek. The Greeks are naturally hospitable so you're assured a very friendly welcome.
There are three key bar areas in Athens with the central area boasting most of the very best cocktail bars - among them some of the world's best. If visiting during August beware that most locals avoid the city centre due to the heat and head to the seaside, hence many of the bars in this central area close for at least two weeks. (Clumsies and Odori have told us they will stay open - we'll update this as others inform us).
Glyfada and Varkiza, two areas to the south of the city and near the beach can be considered as one. This is where to head in the height of the summer season. Accordingly, you'll find a handful of luxury five star hotels - perhaps contributing to the slightly superficial feel of this part of Athens. It's the nearest thing Greece has to Miami.
Lastly, there's Chalandri in the northern suburbs of Athens, about 20 minutes by taxi from the central area (don't take the metro as the station is far from the main square where most of the key bars are). Here, amongst the crowded narrow streets you'll find good shopping and lots of cafe bars. Chalandri attracts few tourists and has a great atmosphere. However, if in Athens just for a weekend, stay in the central area and tour by foot.
While in Athens be sure to try some of the locally produced beers, wines, spirits and liqueurs. Some, like Ouzo, Tsipouro and Mastiha have ancient Greek origins, others have emerged in the last decade, during which time, as in other countries, Greece has seen a dramatic rise in artisanal breweries and distilleries. As for winemaking, this is something the Greeks taught the rest of the world - they have been making wine since the late Neolithic period with domestic cultivation widespread by the early Bronze Age.
Recommended bars in the central area
A for Athens
Miaouli 2-4, Central Athens, 105 54
The bar that sits atop one of our go-to hotels, this rooftop cocktail bar overlooks Monastiraki square below with panoramic views of the floodlit Acropolis beyond. It's popular with locals and tourists alike and has something of a clubby atmosphere on Friday and Saturday nights. A must visit for the view but also for the cocktails since the award winning bar manager, Thodoris Pyrillos is one of the best-known bartenders in Greece. Difford's Guide rating: 4.5/5
Alexander Bar
Hotel Grande Bretagne, Vasileos Georgiou 1, Syntagma Square, Central Athens, 105 64
Dress up, this place is posh. The Alexander Bar lies off the lobby of the Grand Bretagne five-star hotel, in Syntagma Square. It's very classic in appearance with the requisite veritable rainforest of dark mahogany. A historic bar to experience but perhaps not for cocktails. They have a rare collection of dark spirits which you can also enjoy at the Cigar Lounge on the first floor. Difford's Guide rating: 3.5/5
Baba Au Rum
Kleitiou 6, Central Athens
Thanos Prunarus is a regarded rum expert, a pioneer bartender for the Greek bartending scene and his Baba Au Rum is considered the first contemporary cocktail bar in Athens. The concept leans towards tiki but don't expect a tiki bar. And here contemporary tiki doesn't have to mean rum although here you can find one of the biggest rum collections in the world. Girls, Baba au Rum has the most beautiful bathrooms in Athens. Difford's Guide rating: 5/5
42 Barstronomy
Kolokotroni 3, Central Athens, 105 62
Douglas Adams readers will recognise the importance of the number 42 - quite simply the "Answer to the Ultimate Question of Life, the Universe, and Everything", as calculated by Deep Thought over 7.5 million years. Handily, you'll find a copy of The Hitchhikers Guide on the bar counter and naturally you'll also find a Pan Galactic Gargle Blaster on the cocktail menu; but be sure to try Marvin's Last word, a tasty Greek riff on the Last Word. Difford's Guide rating: 5/5
Barreldier
Voulis 7, Central Athens, 105 62
Mario Basso, the Italian owner and bar manager of Barreldier gives this small corner bar a very homely feel with an Italian touch - it's great for appetitivos and classic cocktails. It's also at the opposite entrance to the same small shopping precinct as Bar 42 so if visiting one it's rude not to pop into the other. Difford's Guide rating: 4/5
The Clumsies
Praxitelous 30, Central Athens
The most famous bar in Greece and one of the most regarded bars in Europe - rightly so. Such is the popularity of The Clumsies, that you are advised to arrive early. Easily achieved as this is an all-day bar where you can find avant-garde and innovative cocktails with bespoke ingredients pre-prepared in the upstairs lab by Vasilis Kyritsis and Nikos Bakoulis. Difford's Guide rating: 5/5
CV Distiller
Chatzigianni Mexi 7, Central Athens, 115 28
CV Distiller boasts a huge collection of whiskies and rums and offers simple classic cocktails. We've listed this as being in the central area - it is, but it's also a short taxi ride from the other bars listed here. Don't forget to visit the cellar which operates as a private tasting room with its own bar where you can enjoy your drink surrounded by nearly 1,000 whiskies and rums. Difford's Guide rating: 4/5
Heteroklito Cave & Bar à Vin
Fokionos 2, Syntagma, Central Athens, 105 63
Stylish and cosy, this wine bar focuses on Greek wines and encourages you to pair them with selected local cheeses and hams. Difford's Guide rating: 4/5
Ipitou
Ipitou 4, Syntagma, Central Athens, 105 57
A tiny street bar, perfect for the summer evenings since you can sit outside and enjoy well-made cocktails crafted by experienced bartenders. The music has an uplifting vibe, as does the crowd. Be sure to come here early to secure one of the few available seats. What to drink? Ask for a Mai Tai or anything tiki cocktail. Difford's Guide rating: 4/5
Kolokotroni 9
Kolokotroni 9, Central Athens, 105 62
Pronounced "kollo-cot-rony" this bar takes its name from the street on which it sits, which in turn is named after the hero of Greek revolution. Thankfully, the bar is better known as simply "nine". Nine is a tiny rum bar managed by Nikos Arvanitis, a self-confessed rum geek who regularly backpacks around Caribbean and South America seeking out more rare rums. Accordingly, most of the cocktails are rum based. Difford's Guide rating: 4/5
Kyrios
Dorylaiou 4, Mavili Square, Central Athens, 115 21
Incidentally, Kyrios means 'Mr' in Greek but no one has explained to me what this has to do with the glass cases of stuffed birds that decorate the elegant marble interior. No matter, they serve great wines and good cocktails. Kyrios is in the centre of Athens but is a 30-minute walk or a short taxi ride from most of the other 'central' bars listed here, or take the metro to Megaro Musikis, a couple of stops away from Syntagma Square. Difford's Guide rating: 4/5
Noel
Kolokotroni 59B, Central Athens, 105 62
One of the most popular bars downtown. Actually, two bars joined by an alley in the same building. Noel is best described as theatrical, offering good drinks and comfort food. The 13-strong bar team switch between bartending and waiting so you are assured great table-side cocktail advice. Difford's Guide rating: 4/5
Odori
Skouleniou 2, Central Athens, 105 61
The third bar offering from the folk behind The Clumsies, Odori opened in May 2016. With its slightly elevated position up a few steps, Odori has the appearance of a Grand Cafe with floor to ceiling doors thrown open onto the quiet pedestrian street on which it sits. Its impressive copper fronted and copper topped bar counter welcomes all with a warm glow. Across it come some of Athens' best drinks from a beautifully presented vermouth centred menu. A great spot for aperitivos. Difford's Guide rating: 5/5
Rehab
16 Thiseos Str, Central Athens
Rehab has what is best described as a psychedelic interior. Known for its rum selection, all eight drinks on the menu, made by Alexandros Gkikopoulos, are rum based and served in tall Collins glasses. It's worth pointing out that the drinks here are noted for their potency. Beware. Difford's Guide rating: 4.5/5
The Seven Jokers
Voulis 7, Central Athens, 10562
This late, very late night bar is a bartender's after shift favourite. Seven Jokers has a theatrical interior and is perhaps better known for its draught Guinness and spirits selection than for its cocktails. That said, the cocktails are decent. Best of all it's open from mid-morning right through till 7am next morning. Time your visit well and experience a great atmosphere. Difford's Guide rating: 4/5
The Trap
Othonos 10, Syntagma Square, Central Athens
Hidden down a narrow alleyway off the Syntagma Square, directly opposite the Grand Bretagne hotel. The entrance to the alley is next to Alpha Bank. Although it only opened in April 2016, The Trap has a vintage feel - already a classic. You'll find good food and great cocktails plus a menu that is designed to be a guide of Athens with bars, restaurants, attractions and shopping ideas which you can buy from the bar. Difford's Guide rating: 5/5
Zonar's
Voukourestiou 9, Central Athens, 106 71
Open since 1939, this high-end all day café bar is one of the most historic bars in Athens and looks non the worst for a sympathetic refurbishment in 2016. Difford's Guide rating: 3.5/5
Galaxy bar
Hilton Hotel. Vas. Sofias 46, Athens, 11528
The beautiful Galaxy bar is located at the top floor of the elegant Hilton Hotel and offers stunning panoramic views of the city. A good choice for romantic moments or for a cocktail. Difford's Guide rating: 3.5/5
M Bar (Electra Metropolis Hotel)
Mitropoleos 15 str, Athens, 10557
Classy roof garden with a spectacular view of Acropolis, located on the 10th floor of the newly opened Electra Metropolis hotel. Top end, retro chic ambience and cosmopolitan atmosphere. Always busy with locals and visitors, either sipping cocktails at the beautiful onyx bar, or enjoying coffee, lunch or dinner at the café / restaurant. Difford's Guide rating: 3.5/5
Bars in Glifada and Varkiza (seaside districts)
Holy Spirit
Laodikis 41, Glifada
Situated out in the southern suburbs, this is by far the best bar in the area. Funky and colourful - both the bar and the cocktails they serve. Holy Spirit is always crowded with locals. Difford's Guide rating: 4/5
Island Club & Restaurant
27th klm Athinon Souniou, Varkiza, Athens, 166 72
This seaside club and restaurant should not be confused with a beach bar. Island is distinctly high-end and is one of the most beautiful bar-restaurants on the Riviera attracting equally beautiful people - and of course some ugly ones with money. Its location makes this a seasonal bar so it's only open April till September. Difford's Guide rating: 3.5/5
Bars in the northern suburbs
Theory Bar & More
Chaimanta 12, Chalandri, Athens, 152 34, Greece
A high-volume bar out in the northern suburbs, Theory has crack team of bartenders which knock out simple but tasty cocktails. One to remember in the summer months due to its large yard, even if just for a morning coffee. Difford's Guide rating: 4.5/5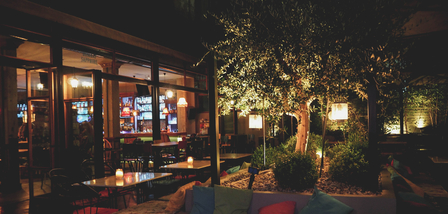 Mr Peacock
Katsoulieri 7, Chalandri, Athens, 152 33, Greece
Another high volume bar in the northern suburbs, Mr Peacock is noted for its back yard complete with VW camper van installation. A colonial-style interior and a solid drinks program. Difford's Guide rating: 4/5
Recommended wine, liquor & beer stores
Cava Π
Mitropoleos 76, Central Athens, 105 63, Greece
It's very central location in the shopping streets near Monastiraki Square make this perhaps the best located liquor store for tourists. It also boasts a knowledgeably, enthusiastic owner and a good range of local wines and spirits, as well as probably the best range of liqueurs in Athens.
Kylix Fine Wines & Spirits
Karneadou 20, Central Athens, 106 75, Greece
A beautiful store with a fabulous wine selection. Head up the spiral staircase to the galleried mezzanine level for one of the best ranges of spirits and liqueurs in Athens.
Cellar Matsoukas
Appollonos 6, Central Athens, Greece, 105 57
Handily close to Syntagma Square, Matsoukas boasts over 30 labels of beer from Greek microbreweries. Ask for Nisos, Yellow Donkey and Septem beers.
Hotels
Two of the four hotels we stay at and recommend in Athens share the same owner and overlook Monastiraki Square with panoramic views of the Acropolis - 360 Degrees and A For Athens. They are modern in style and both are crowned by roof top bars which are popular with locals and have something of a clubby vibe at weekends. Depending on how much you value a quiet night's sleep, you may want to ask for one of the back rooms rather than overlook the square. That said you'll miss out on a view of the Acropolis and watching the ever changing street scene below. Neither hotel is posh but they are spotlessly clean, comfortable and represent great value for money. They also have the friendliest staff of any hotel we've stayed in. Best of all, you can breakfast whilst overlooking the Acropolis.
The Hilton Athens, is located almost in the centre of the city (less than 10 minutes walk from Syntagma square) and offers 5 star facilities.
The Hilton Athens
Electra Metropolis Hotel is a hidden Athenian gem, which re-opened early in 2017 as a hotel, six decades after its initial opening. The re-born Electra Metropolis occupies a aesthetically decadent building, prevously the home of the Ministry of Education. The moral perpetrator of this purgation was Mr Gerasimos Fokas, Chairman of Electra Hotels & Resorts, who, along with Yannis Retsos and Alkis Sbyriadi, have envisioned the purification of Patroklos Karantinos' masterpiece. Amazing views to the Parthenon by some of the 5 star rooms and of course by the amazing Roof Garden with M Bar and the restaurant.
One of the rooms at Electra Metropolis Hotel
Useful information
The nearest airport is Athens International Airport "Eleftherios Venizelos" (ATH) which is approximately 40 minutes' taxi ride away from the city centre - but allow at least an hour. Flights from London take a little over 3 hours and Greece is 2 hours ahead of the UK.
Despite very nearly dropping out of the Euro, Greece remains part of the Eurozone. Cash has always been king in Athens but this is particularly the case since "the crisis" - something you're sure to hear a lot about whilst in Greece. People no longer trust the banks and stash their cash - who can blame them. You'll find most bars, restaurants even small stalls accept cards but they'd much prefer your cash. If you're coming from the UK, particularly London, you'll be struck by the great value for money of the restaurants and bars here - even when the Pound is low against the Euro. Bring a large suitcase because you're sure to end up buying stuff to take home.
Athens is a relatively safe city but as with any large city beware of your valuables and watch out for pick-pockets in busy touristy areas.
For more in-depth travel and visitor information we recommend Matt Barrett's Athens Guide.