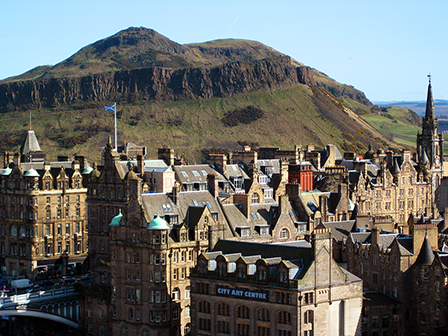 Edinburgh is a city of many faces. It is home to Braveheart and to Trainspotting, to the Military Tattoo and the Edinburgh Festival.
Edinburgh is a beautiful city. Its grandiose architecture, Georgian curves and cobbled streets are overshadowed by the castle topped, jutting, volcanic outcrop known as Castle Rock. The once-crumbling port of Leith is a flourishing foodie Mecca and the Fringe Festival has made the city a worldwide cultural mecca come August.
The Scots are legendary drinkers and Edinburgh is an imbiber's dream. I'm told it boasts more pubs and bars per square mile than any city in Europe: all, from friendly local pubs to cocktail lounge bars, are enhanced by traditional Scottish hospitality.
Over recent years the main bar scene has developed along George Street and its cross streets in the New Town. On George Street itself it appears every other doorway is a bar, and venues range from branded chains to owner-operated curios. Some of the city's best cocktail bars lie not far off this strip.
Edinburgh is the UK's second city of cocktails after London, punching well above its diminutive size. Our Edinburgh's best cocktail bars page features our favourites in both the Old and New Towns.
Late night drinking in Edinburgh
Most pubs and bars are open until 1am - certainly late week and weekends, while clubs may serve until 3am. A small number of cocktail bars now also boast 3am licences - most notably Auld Reekie Tiki Bar
For those of us that want to drink past 3am then there is always Genting Casino (formally Maxims), 5b York Place, EH1 3EB which stays open until 5:30am. And during the annual festival the opening hours of most venues are extended with clubs open until 5am.
Late night Eating in Edinburgh
With its cocktail and food offering served until 1am, Nightcap is a favourite late-night haunt with their ribs and wings the main draw. However, for anything from a quick snack to pizza or pasta, Bar Napoli (75 Hanover Street, New Town, EH2 1EE) takes some beating and opens until 2am during the week and 3am on Friday and Saturday.
Recommended pubs, beer bars & gastro pubs
page updated April 2017
Edinburgh is truly one of the great drinking cities of the world with world class cocktail bars and characterful old pubs - the following are some of our favourites:
Bennets Bar
8 Leven Street, Tollcross, Edinburgh, EH3 9LG
This is a proper pub with atmosphere and beautiful Victorian décor - a working museum and a fine example of what a local boozer should be. You'll find well-kept cask ales, an excellent range of malts and even a splattering of cocktails - although I can't imagine ordering a cocktail here.
Difford's Guide rating: 4/5 [Bennets info & review]
Blue Blazer Pub
2 Spittal Street (corner Bread St), Old Town, Edinburgh, EH3 9DX
This old corner boozer is as blue as the name would suggest, so easy to spot as you approach from Bread Street. It is a traditional and unpretentious boozer offering one of the best ranges Scottish cask ales on draught in the city, plus a spirits selection that extends well beyond Scotch.
Difford's Guide rating: 4/5 [Blue Blazer info & review]
The Canny Man's
237 Morningside Road, Edinburgh, EH10 4QU
This quirky, magical pub, with its tiny rooms and alcoves filled bric-a-brac, lies a 10-minute taxi ride from the west end of Princess Street and any black taxi driver will know The Canny Man. Not only is this pub noted for its appearance, it boasts a 250 strong whisky selection, well cared for cask ales, and Smørrebrød sandwiches and seafood.
Difford's Guide rating: 4/5 [Canny Man's info & review]
The Café Royal Circle Bar
19 West Register Street, Edinburgh, EH2 2AA
Opened in 1863, this is a splendid example of Victorian Baroque with carved and polished walnut, bevelled mirrors and Doulton ceramic murals. Extensively a gastro pub, what the Café Royal lacks in fabulous drinks it makes up for with Architectural splendour.
Difford's Guide rating: 3.5/5 [Circle Bar info & review]
The Rose Leaf
23-24 Sandport Place, Leith, Edinburgh, EH6 5HY
This quaint and quirky gastro pub lies of the beaten track, even for Leith, but is a real find. Drop in for a pint or 'Pot-Tail' (basically cocktails served in china tea pots with accompanying cups and saucers) or make a reservation to eat.
Difford's Guide rating: 4/5 [Rose Leaf info & review]