Product of:

Mexico
This añejo tequila is aged up to 32 months in recharged American white oak ex bourbon barrels but is said to be at least two-and-a-half years old - just 6 months short of qualifying to be termed an extra añejo. It is distilled in pot still No.6, a small still filling just 3 barrels per distillation.
1942 commemorates the year that the eponymous late Don Julio González started making tequila and it was launched in 2002 to commemorate the 60 anniversary. It is presented in an elongated amber bottle shaped to resemble an agave leaf. The present bottle and gift box was released in 2010, the original had lighter and greener coloured glass and was slightly more squat with a black and white photograph of Don Julio himself gracing the top of an agave-shaped leaf label. The old bottle was good but the new, sleeker more elegant bottle is even more impressive.
Review and Tasting
Sampled on 03/07/2014
Appearance:
Clear, pale straw golden.
Aroma:
Spiced (cinnamon) boiled sweet (candy) with sweet agave, vanilla, caramel, turkish delight and faint gluey aromas.
Taste:
Crème brûlée and burnt toffee agave with dry nutty oak, roasted coffee beans and bitter chocolate. Light citrus zestyness with a kirsch eau de vie fruit.
Aftertaste:
Long, dry nutty finish with a burst of toffee, citrus, wisps of smoke and lingering dry oak.
Product Information
Barcode UPC: 6 74545 00011 7
Bottle Size: 700 ml
Closure: Natural cork stopper

Barcode UPC: 7 506064 300191
Bottle Size: 700 ml

More about Don Julio 1942
Tequila classifications, categories & classes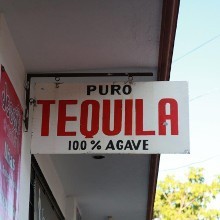 There are two main classifications of tequila, 'Mixto' and '100% Agave'. These two categories of tequila are further categorised according to whether or