Buy direct from
The Whisky Exchange
Bottle size: 70cl

Product of:

Brazil
Leblon is made from fresh cane juice obtained within three hours of harvesting by pressing only the middle and best part of the sugar cane. This fresh sweet juice is fermented and then distilled using an alembic copper still. The cachaça is then aged in ex-cognac casks for one month.
Leblon was launched in September 2005 by a former executive at LVMH, Steve Luttman, and ten partners. They raised $2 million to launch their spirit which takes its name from Leblon Beach in Rio de Janeiro.

Review and Tasting
Sampled on 26/08/2019
Appearance:
Crystal clear.
Aroma:
Pungent. Tinned sweetcorn, grassy sugar cane and faint unsalted butter.
Taste:
Clean and Intense. Distinctive cachaça grassy and sugary sweetness with cleansing white pepper spice.
Aftertaste:
Long, slightly spicy, grassy/strawy finish.
Overall:
Clean and full-flavoured, Leblon is a good and easily accessible example of what a cachaça should be.
Buy direct from
The Whisky Exchange
Bottle size: 70cl

Product Information
Closure: Synthetic stopper

More about Leblon Cachaca
Cachaça cocktail recipes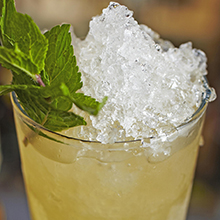 View 91 Cachaça recipes on Difford's Guide