The rum life of Stephen Remsberg
The rum life of Stephen Remsberg
Words by Jeff 'Beachbum' Berry
Photography by Annene Kaye
Back in January 2016, this was my debut article for Difford's Guide. It was fitting for Stephen Remsberg to be my first profile, as Stephen was first among rum collectors throughout the world. I'm grieved to report that Stephen passed away on the very last day of 2022 (painlessly in his sleep). I'm grateful to Difford's Guide for giving me a forum to tell his story.
What I should add here is that Stephen Remsberg was a walking contradiction. He was an obsessive collector, but he thought nothing of pouring out his most prized possessions for his guests. He was a lawyer, but he was also the least confrontational guy you'd ever meet. He was an introvert, but he shone when speaking in public, even to rooms of more than 200 people. I'll always remember him as a true bon vivant who loved the finer things in life, and loved indulging in them with fellow sybarites. He was a generous host, a talented cook, and a loving friend. Oh, and did I mention that he had good taste in rum? Rest In Peace, Professor.
The first drink on Latitude 29's menu is called Professor Remsberg's Punch. Guests often ask who this person is. Short answer: my hero. Long answer: retired maritime attorney Stephen Remsberg, who owns the world's largest collection of vintage rums, a collection he's been amassing for over 40 years.
I first saw this collection ten years ago, at Stephen's suburban New Orleans home, in the antechamber between the kitchen and dining room that housed his home bar. Upon entering, I asked Stephen where he'd sourced the photo-realist rum bottle wallpaper pattern. Did he have it made, or could I buy some for my own walls? Then I realized I wasn't looking at a trompe l'oeil, but a trompe l'iquor. The bottles were real: 637 of them, on narrow custom-built shelves, lining every wall from floor to ceiling.
In addition to pre-Prohibition rarities from Cuba and New England, there were rums from Uganda, Egypt and Nepal. One from Korea had a snake in the bottle. Stephen's oldest was a pre-WWI Field's London Dock Jamaican; his most prized, the Wray & Nephew 15-year Special Reserve used by Trader Vic to make Mai Tais in the 1950s (after Vic ran out of the 17-year with which he created the drink in 1944).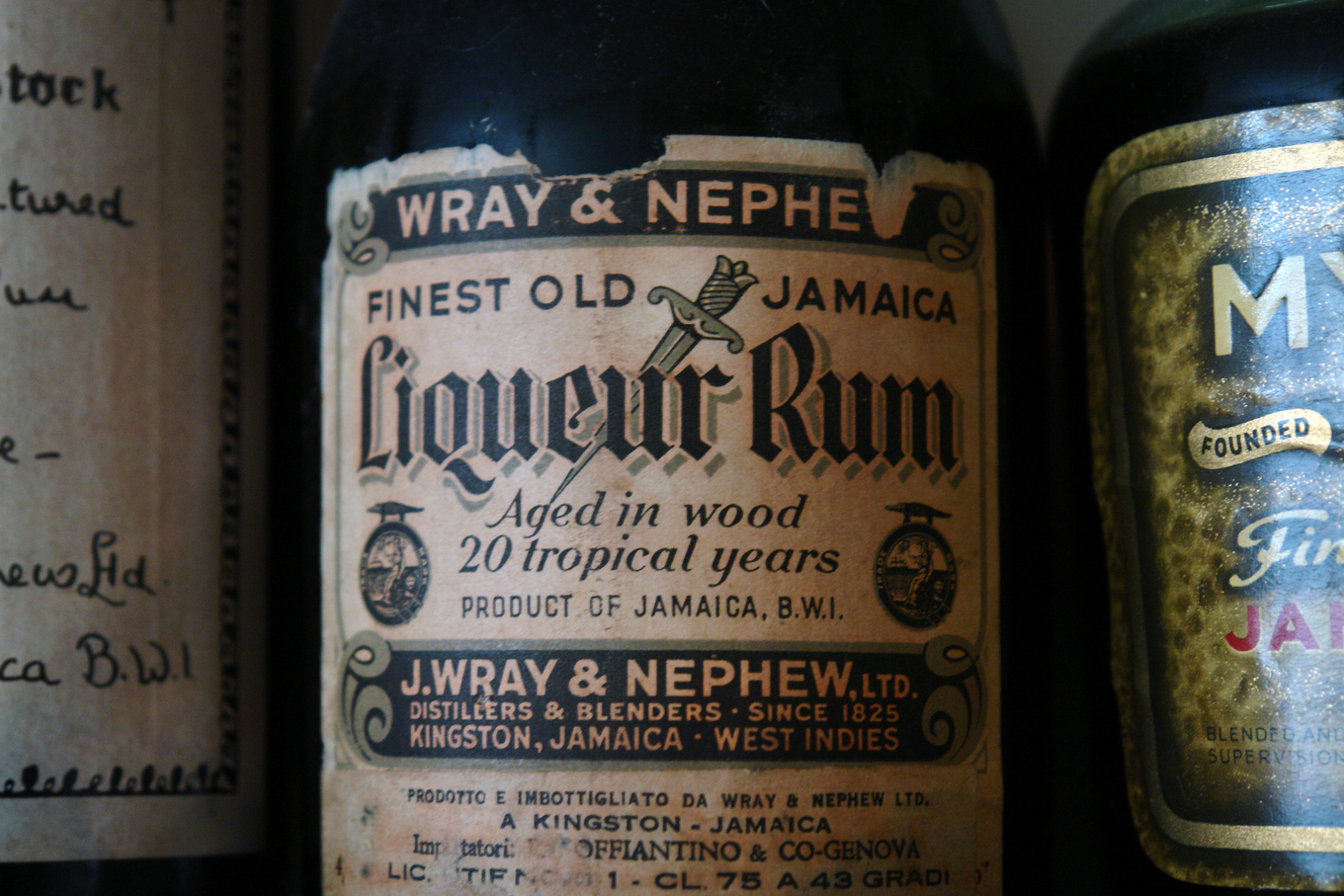 As it happened, I was one of the last people to see this collection intact: Nine days after my visit, Hurricane Katrina hit. The storm made refugees of Stephen and his wife Cheryl, who for months afterward bounced between five temporary residences. "Katrina almost destroyed the house - except the rum," says Stephen. "The steam bath created by having five feet of water inside a sealed house in 95-degree temperatures for three weeks took a toll on the labels, but I lost not a bottle and salvaged many of the labels."
The bottle-lined antechamber is no more - Cheryl, who does not exactly share her husband's obsession, consigned the bulk of his liquid assets to an outbuilding behind the remodeled house - but his collection has grown significantly over the past decade, with ever older and rarer finds. This is good news in more ways than one, because Stephen doesn't just collect vintage rum. He also drinks it. On my most recent visit, he decanted a bottle of the house rum from Sloppy Joe's, the legendary Havana saloon that counted Ernest Hemingway and Errol Flynn among its regulars. This particular expression had been aged for 40 years - before it was bottled in 1958. The taste? Phenomenal. The price? Every collector has his fish story, but this one's worthy of Melville:
"Seventeen or eighteen years ago, I was prowling through the second hand shops on Magazine Street here in New Orleans," recounts Stephen, "when I ran across a wooden crate on the floor with some old bottles." One of them was the 40-year-old Sloppy Joe's. Stephen grabbed it, along with the pre-WWI Field's and two 1925 Bacardi whites. "The shop clerk looked at my stash and said he wasn't licensed to sell liquor, so he would have to empty the bottles. Before I could grab them up and run out of the store, he said he was joking but he would have to charge me $5 per bottle. So, for $5 I picked up the oldest rum in my collection - the Fields - and the oldest Cuban."
The rum bug bit Stephen early. "As a high school student, I had the mixed blessing of a brilliant older brother who won a fellowship to study in London. Thinking the experience might possibly do me some good, my parents dispatched me to spend a summer with him. One night he brought me along to meet some friends at the London Trader Vic's. I had never seen anything like it, but was too young to appreciate it. I recall my drink of choice was the vodka-based Wahine." Shortly after that Stephen moved to Chicago, which not only had a Trader Vic's but a Don The Beachcomber's. It was love at first sight:
"Don's was more primitive and much older than Trader Vic's - more authentic. I felt like this must be a sailor's dive in Macao. This was the real thing. Don's just was; it didn't care whether you liked it or not." Stephen became a regular. "Still living on a student budget, I largely inhabited the inexpensive end of the drink list. For instance, the Beachcombers Gold, Montego Bay and Shark's Tooth were $1.50, while a Navy Grog or QB Cooler were $2.75. I could have three or four superb drinks and leave a reasonable tip for under $10." Then came the fateful night Stephen graduated from rum punches to rum labels. "Since I basically never moved out of the bar, it was three years before I discovered an incredible display of pre-war rum contained in a very large glass display case, which divided the main dining room on the second floor into two sections. I was about to head home from the bar one winter night at closing when a maître d' stopped me and kindly suggested I might like to see something upstairs. I followed him up and he walked me to the front of the display case. It held probably 200 or 300 bottles - which were both old and not anything I had ever seen before in any liquor store. This was referred to as 'Don's Collection.' That was the first time I ever heard of the concept of a rum collection."
Stephen began his own collection in 1973. He faced two major problems. First, there was no Internet. "Fortunately, work took me to Europe and around parts of the Caribbean, so I always spent a day or two of serious prospecting in wine shops and pubs to see what was available, mostly in capital cities. I particularly liked to haunt shabby grocery stores in really rundown areas. You can find the most marvelous rum there, but not regularly or often, because in Europe rum drinking can be very regional. For instance, in both Spain and Portugal rum is popular on the Mediterranean Coast; if you've searched only Lisbon, you'll have seen only a fraction of what the country can offer." The second problem was getting the bottles back home. "U.S. law permits each citizen returning home to carry with him around 50 gallons, but you do have to pay a two or three dollar duty on every standard-size bottle. That is, unless your port of entry is Texas, in which case you can't bring back anything. That is one of several reasons why I've never considered residence in Texas."
By the mid-1990s, Stephen no longer had to travel to where the bottles were - the Internet brought bottles to him, via a fruitful online correspondence with Ted 'Doctor Cocktail' Haigh, an AOL cocktail message board addict who would go on to write the influential book Vintage Spirits & Forgotten Cocktails. Ted steered Stephen to his first European source for several hundred of his rarest rums. "I owe Doctor Cocktail a debt of gratitude that far outweighs the numerous exquisite bottles he has drunk at my home over the decades, even though I don't let him in the house anymore." In addition to foreign antique spirits brokers, Ted tipped Stephen "to neighborhoods all around the U.S. where very old liquor stores still had dusty bottles of extinct rums. It took me a few years to discover that he only told me about shops that he had thoroughly cleaned out. The most significant chapter in my collecting, however, opened when I accidentally discovered eBay."
When Stephen first became serious about rum in 1970, there was little literature on the subject outside of David Embury's 1948 book The Fine Art of Mixing Drinks and Trader Vic's 1947 Bartender's Guide. "Both had short chapters on rum with lists of rums the authors liked, and the barest information on what they were like," remembers Stephen. "That was it." But in the 1990s, a treasure-trove of rum-related paper ephemera began popping up on eBay: "Magazine ads from the 1930s and '40s, old duty-free shop stock lists, society grocer catalogues as far back as the 1870s - all of which I poured over like an NSA analyst. When I put it all together, I knew what rum was sold on what market everywhere from the 1870s through the 1960s. If someone sent me a photo or a label, I could determine when it was produced - invaluable when you're offered a real collectable. I've now come from not knowing what the rum universe was to knowing exactly what I don't have."
This hard-won intel took the guesswork out of bidding online for bottles. "Everyone over 50 or so has to clean out granddad's cellar, attic, closet and garage, only to find unopened bottles of liquor and wine," says Stephen. "Any intelligent father would turn to a teenage child and ask if there's anywhere to sell this stuff, and the kid will say: 'List it on eBay, Pop, people will buy anything.' And I did. I bought the rum collection from a Vanderbilt family heir, and the rum bottles from the cellar of Spenser Prescott, who built the first luxury destination in the Rocky Mountains in Colorado," which was immortalized as the Overlook Hotel in Stanley Kubrick's film The Shining. "I mined the eBay bonanza until the market disappeared about five years ago, when eBay banned listing wine and liquor bottles. Now there's no reliable marketplace to connect me with grandpa's old bottles."
But as Stephen's inventory grew, so did his reputation. He was invited to judge rum at the Barbados Rum Fest, and to lecture at the National Archives in Washington, DC, and Tales of the Cocktail in New Orleans. He's been profiled in Imbibe magazine (U.S.), and quoted as a rum authority by BBC World News and the New York Times. Spirits and cocktail professionals also began beating a path to his door, clamoring for an invitation to taste history. For Jerry Thomas scholar David Wondrich, it was a singular opportunity to sample an 1880 expression of the Santa Cruz rum referenced in Thomas's Bon Vivant's Companion; for Doorly's distillery owner Richard Seale, it was the only way to taste rum made by his own family's company before he was born. And while eBay may have dried up as a source, these pilgrims to Stephen's bar sometimes now bring offerings of their own.
Tiki bar owner Martin Cate, for example, recently gifted Stephen with the Holy Grail of rum collecting: "Two or three years ago, Martin, his wife and other mutual friends showed up at the door. My knees quaked in fear of how may bottles they'd kill that night, but I was astonished to hear Martin say something I'd never heard before: 'We have something for YOU to taste.' It was a nicely gift-wrapped package. In it was a bottle of Myers's Mona." Aged for 30 years and released in small amounts between 1917 and 1947, Myers's Mona had been on Stephen's radar for decades, but this was the first bottle he'd ever seen. "Everything written about rum before World War II singled out this particular rum by name as the best of the best," he says. "The rum is still mentioned in wholesale catalogs through the end of the '40s, but it would have been a treasured collector's item by 1950."
After four decades, hundreds of bottles, and one 151-proof hurricane, is Stephen ready to rest on his laurels? Did Blackbeard drink Cosmopolitans? "I'm still collecting," he says. "There isn't really another bottle with the same meaning to me as the Myers's Mona, but if anybody locates a bottle of Lemon Hart London Dock 28-year-old Jamaica or Haitian Rhum Sarthe, please let me know."
More Beachbum Berry's Peters Street Regulars
The Peters Street Regulars #2 - Wayne Curtis
The Peters Street Regulars #3 - Paul Gustings