World Class Cocktail Festival: Sydney 2022
World Class Cocktail Festival: Sydney 2022
As the most famed cocktail competition in the world comes to Sydney, the city will be hosting the very best bartenders from around the globe. A week not to miss, there's pop-ups and parties, food trucks and supper clubs, an influx of talent and the chance of tasting what is apparently the world's best Martini. Here's where you can catch all the action.
Difford's Pick: Pop-Ups Not to Miss
DON JULIO FOOD TRUCK FIESTA - 15th September - 17th September
Australia's best food trucks unite for an epic food and drink fiesta. Designed to celebrate the ethos of Don Julio – la familia – and centered around community, this is a colourful line up of the nation's most popular food trucks including Australia's OG '09 Beatbox Kitchen (Melbourne), Ricos Tacos (Sydney) and Taco Truck Dos (Melbourne) alongside a Don Julio pop up bar, all taking place with a soundtrack provided by some of Sydney's finest DJ's and a picturesque view of the Sydney Harbour Bridge from Hickson Reserve.
RYAN CHETIYAWARDANA x QUAX (PETER GILMORE) x JOHNNIE WALKER - 14th September - 16th September
Bit of a mouthful, but this three-way collab combines Peter Gilmore's three hatted fine dining restaurant with luxurious Johnnie Walker Blue Label to unveil Sydney's best new Whisky Bar at the prestigious restaurant - light plates by Gilmore and the drinks have been curated by the world's most awarded bartender, Ryan Chetiyawardana, whose London venue Lyaness was recently awarded Best Bar in the World.
FISHBOWL X SEEDLIP - September 14th - 19th
Fishbowl is a firm office favourite here at Difford's HQ so to hear it's teaming up with Seedlip to create a unique pop-up concept store, all to launch its new, sustainable salmon bowls - well we were excited. The pop-up will offer a special limited-edition menu of curated bowls paired with Seedlip cocktail collaborations with some of Australia's best bars. Sounds like some ideal downtime.
MAKER X FORTUNATE SON - September 14th
We could sit a Fortunate Son all night, which is not something we say about every bar. Coincidentally Maker is one of the other bars we'd give this accolade too - so the 6-9pm team-up is firmly in the diary. Expect a night of considered classics and great tunes in Sydney's favourite neighbourhood jaunt. You'll finish in perfect proximity to Black Pearl's birthday bash and Memphis Slims at Jacoby's - both detailed below.
AGO X BENNELONG - 16th September
Billed as the world's best gin martini with the world's best view, this one-night-only event sees Ago Perrone of The Connaught (London) partnering with Peter Gilmore to take guests on a four-hour guided culinary journey celebrating Tanqueray No. TEN. It's bougie as it gets, but we bet the flavours of these dishes and drinks will be worth the price tag.
More information on all the events can be found here.
Difford's Pick: Parties Worth The Late Night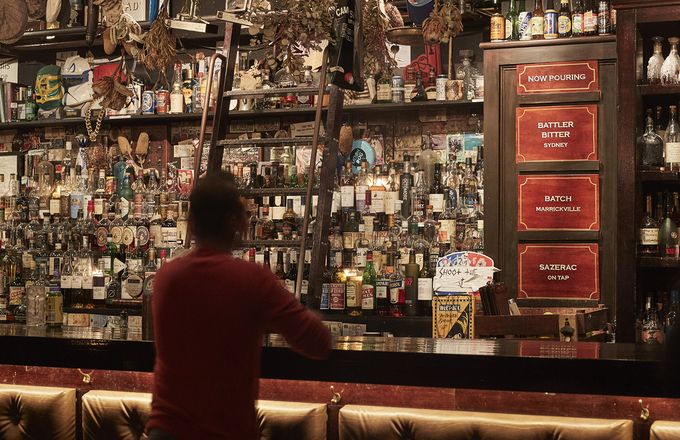 ROBED RASCAL'S PARTY - 12th September
Our beloved Five Star Dive Bar Ramblin Rascal will be welcoming local and international festival-goers to Gadigal land for the Ramblin Rascal Robed Party. It's BYO robe (like the plush bathroom type or porn baron-style, your choice) and get comfy as the team throw down Ketel One delights, live music and lolly bags.
BITE THE BULLEIT AT FRANKIE'S - 14th September
We're all trying to get our fill of Frankie's as much as we can, so we won't be missing this special night as the bar takes a bold spin on the Bulleit bourbon and burgers pairing, slinging a limited edition menu of legendary BBQ pizza with Frankie's secret burger dipping sauce, alongside Bulleit Kentucky Mules and an epic night of live rock'n'roll karaoke, backed by Frankie's own live Hard Rock Karaoke Band.
BLACK PEARL'S 20TH BIRTHDAY BASH - 14th September
Ok we've got our first clash, but luckily ubers are cheap, and fitting in Frankies and Newtown Hotspot Earl's Juke Joint in the same night is no issue. The Black Pearl are up from Melbourne to celebrate their 20th birthday, so expect all the greatest hits from both bar teams as well as snacks from local chefs, tunes from Shantan Wantan Ichiban and an instant 360 degree photobooth.
MEMPHIS SLIMS TAKES OVER JACOBY'S - 14th September
Oh boy this is looking like a late night. Not to worry, this one doesn't kick off till 10pm so consider it your last stop. Adelaide favourites Memphis Slims House of Blues is rolling into town and taking over Sydney's favourite Tiki Joint, Jacoby's for one night only. Transforming into the ultimate Tiki Saloon, Jacoby's will be turning the lights down and the music up for the ultimate end of night party.
More information on all the events can be found here.