Havana Club Boomerang Cocktails
Havana Club Boomerang Cocktails
Escrito por Simon Difford
Fotos por featured bars
El Día del Cantinero (Day of the Bartender) is a Cuban celebratory day which recognises the bartending profession. Held annually on 7th October it originates from the elite of Cuban bartending, El Club de Cantineros.

Havana Club celebrated in style...
All around the world cocktail boomerangs were dispatched, and London was no exception. Over the course of the evening Meimi Sanchez, Global Brand Ambassador for Havana Club, lovingly transported delicious libations and personal messages from one bartender to another. She rightly shunned Uber to travel between bars in luxurious vintage Cuban style, in a beautiful 1953 Cadillac (series 62 convertible, for the petrol heads amongst you).
Why boomerang? Beginning in the late 2000s in New York and now a semi-secretive but common practice around the world, this gesture of one bartender making a drink for another in a nearby bar during a busy shift, sometimes with a message, and delivered by a trusted friend or regular guest, is seen as a gesture of goodwill and fellowship. And a fitting way to celebrate El Día del Cantinero.
Jesse Vida, visiting London from BlackTail, New York City, kicked off the Boomerang with an Old-Fashioned riff, which he sent care of Meimi to Daniel Schofield at Coupette.
King Redeye
60 ml Havana Club 7
15 ml Carpano Antica Formula
7.5 ml Aperol
7.5 ml Galliano Ristretto
1 dash absinthe
1 dash aromatic bitters
Coupette, London
Consulate, from Daniel to Geoff at Satan's Whiskers
40 ml Havana Club 7
20 ml sweet vermouth
10 ml fino sherry
5 ml creme de peche
Stir all ingredients with ice and serve.
Garnish with orange zest twist
Satan's Whiskers, London
Right Hand, from Geoff to Rosie at Three Sheets
40 ml Havana Club 7
20 ml Campari
20 ml sweet vermouth blend
2 dashes Mozart chocolate tincture
Stir all ingredients with ice and serve.
Garnish with a cherry.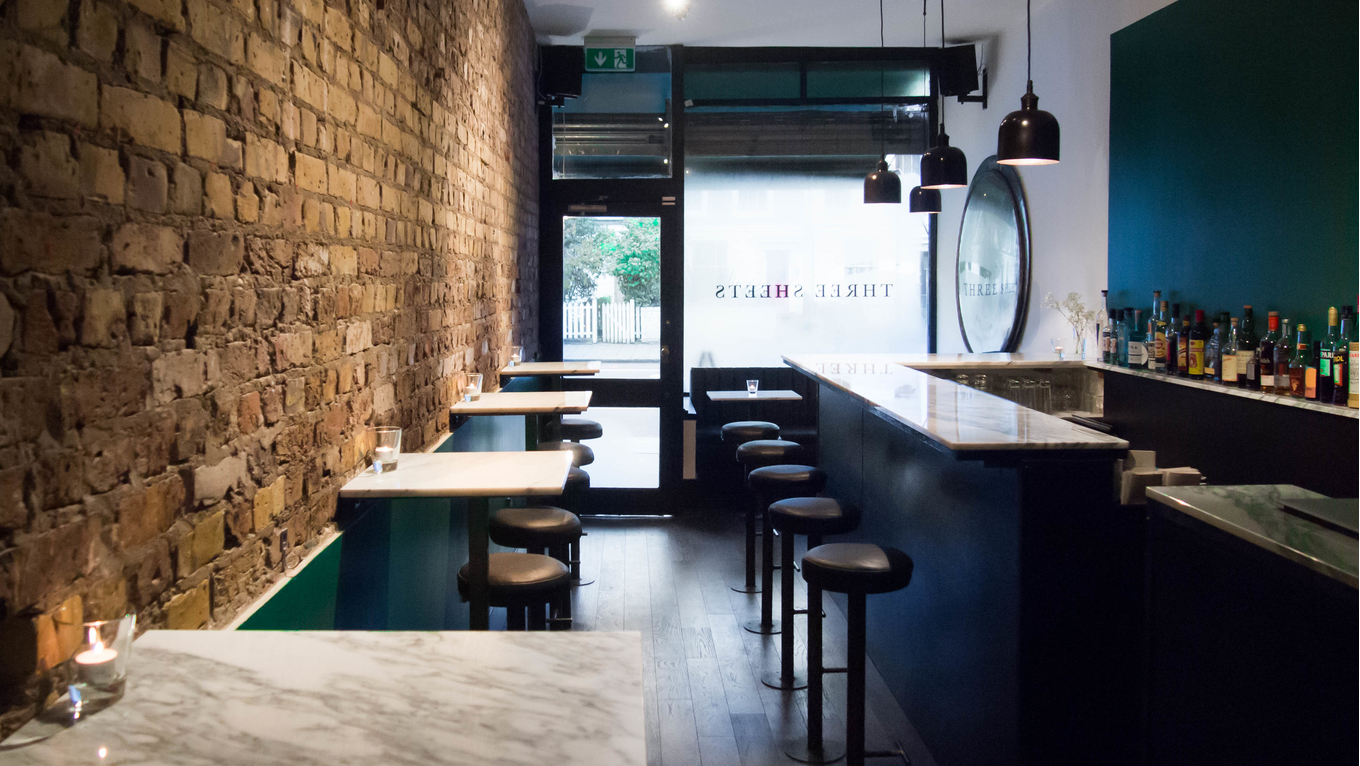 Three Sheets, London
Apples and Pears, from Rosie to Tim at Mint Gun Club
35 ml Havana Club 7
15 ml poire
25 ml bramley apple cordial
Build over ice in highball glass
Top with soda
Mint Gun Club, London
The Cocktail with no Name, from Tim to Charlotte at Original Sin
Tim couldn't think of a name for his creation, so invites the team at Original Sin come up with a suitable moniker.
50 ml Havana Club 7
10 ml coconut syrup
2.5 ml pineapple cordial
Stir all ingredients with ice and kaffir lime leaf and serve.
Original Sin, London
Assistant, from Charlotte to Taylor at Hawksmoor Spitalfields
25 ml Havana Club 7
20 ml lemon juice
10 ml orgeat
10 ml honey
12.5 ml Cointreau
12.5 ml poire william
2 dashes absinthe
Hawksmoor Spitalfields, London
Millionaire, from Taylor to Iain and Kelsey at Trash Tiki
50 ml Havana Club 7
25 ml creme de apricot
25 ml sloe gin
Stir all ingredients with ice and serve.
Boomerangs around the world
It wasn't only in London that Havana Club celebrated El Día del Cantinero. Boomerang cocktails were created in 30 countries around the world. Here are just some...
Cuba
Floridita Especial, Alejandro Bolivar, El Floridita
50 ml Havana Club 7
15 ml Kalhua coffee liqueur
30 ml vermouth rosso
This cocktail is made using a few drops of Essences of Cuba and is served in a Cognac glass.
Spain
"Lobo de Mar" / "Sea Wolf" (Bartenders Manual, 1930), Alberto Martinez, 1862 Dry Bar
1.75 oz of Havana Club 7
1.25 oz of sherry wine "fino"
0.25 oz dry curaçao
1 dash Essence of Cuba Aromatic leaf
Orange twist
Italy
Globetrotter, Ivan Patruno, Bulk
45 ml Havana Club 7
25 ml Ylang Ylang syrup. (Preparation: sugar syrup 1:1, during the cooking time you put one part of Yilang Yilang essence and lemon peels.)
15 ml fresh lemon juice
Bulgaria
Okan cocktail, Okan Ali, Memento bar
50 ml Havana Club 7
30 ml lime juice
10 ml sugar syrup
30 ml white egg
Garnish with orange peel
Canada
High Class in Borrowed Shoes, Aliya Lucas, Maple Leaf Lavern
2oz Havana Club 7
1/2 oz agave syrup
1 oz Pineapple juice
 3/4 oz Lime juice
3 dashes Cinnamon bitters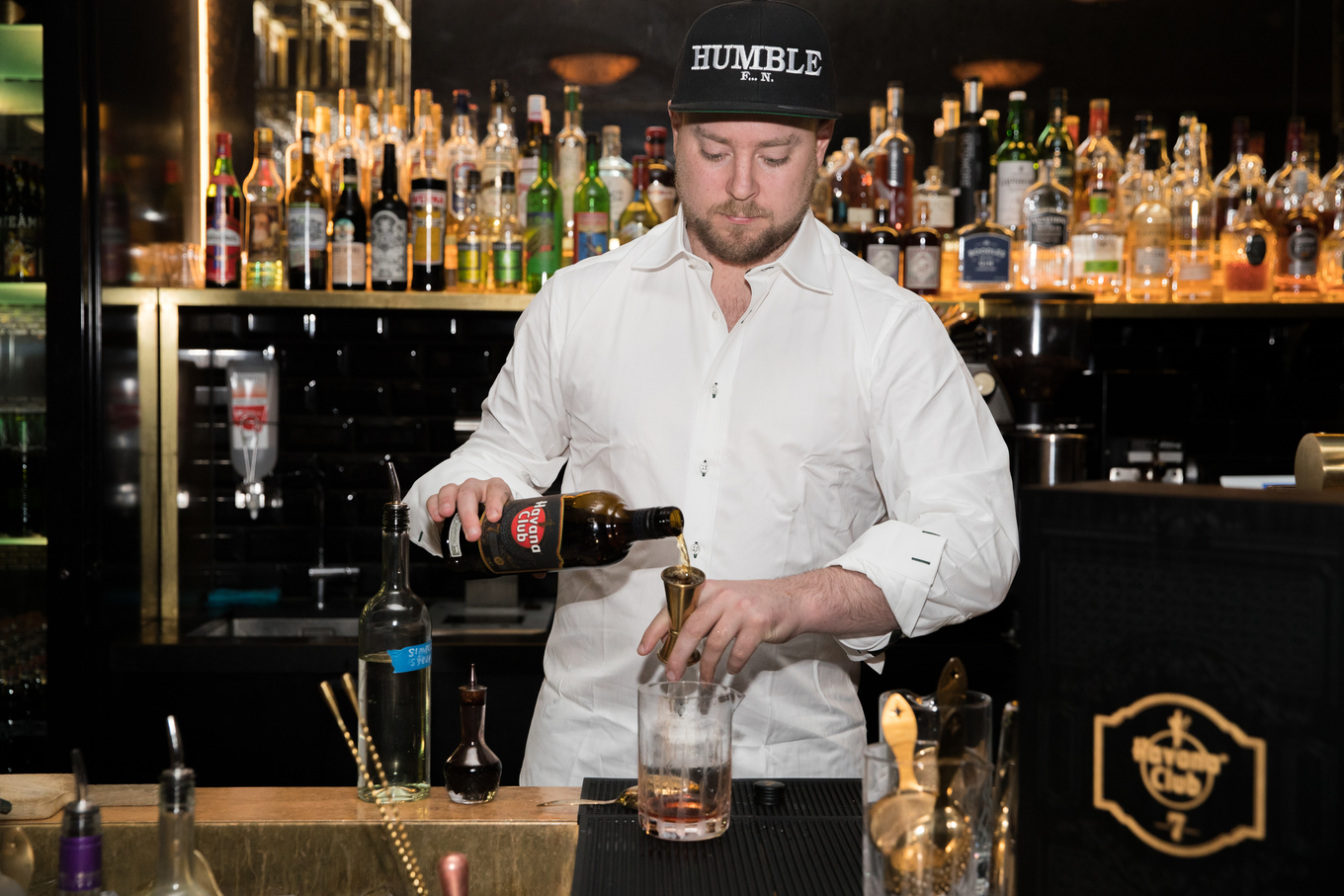 Norway
Old Fashioned, Chris Grøtvedt, ISM
60 ml Havana Club 7
2 barspoon sugarsyrup
4 dashes Angostura Bitters