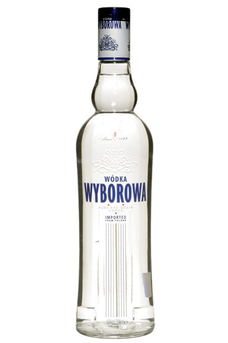 Buy direct from
The Whisky Exchange
Bottle size: 70cl

Product of:

Poland
Produced from 100% rye farmed in western Poland where it is mashed and distilled once in some 30 individual, privately-owned, small-scale agricultural distilleries to produce 'raw spirit'. At the Wyborowa distillery the raw spirit is rectified in a three column continuous still.

In 1823 Hartwig Kantorowicz established a new modern distillery in Poznan to produce the finest vodka in Poland - a fact recognised by a Polish newspaper that same year. The president of the paper's judging panel proclaimed the vodka "Wyborowa!", meaning exquisite in English. Thrilled by the word used to describe his vodka, Hartwig decided to name it after the exhortation, and in 1927 Wyborowa became the world's first vodka to register its brand name internationally.

During the Communist regime, Wyborowa was a flagship brand with relatively small quantities exported to the west. The brand is now owned by Pernod-Ricard so enjoys international distribution, although is somewhat eclipsed by the company's main vodka brand, Absolut.
Review and Tasting
Sampled on 24/11/2011
Appearance:
Crystal clear, bright.
Aroma:
Clean, with subtle cracked black pepper and faint nutty rye bread.
Taste:
Clean, soft but dry and full-flavoured with pecan nut flavours and an almost creamy mouthfeel. Cracked black pepper spirity spice towards the end of the palate.
Aftertaste:
Subtle milk chocolate flavours emerge in the still slightly nutty finish with cleaning pepper spirit tingle.
Buy direct from
The Whisky Exchange
Bottle size: 70cl

Product Information
Barcode UPC: 5 900685 005244 >
Bottle Size: 700 ml
Closure: Screw / Stelvin cap

More about Wyborowa Blue Vodka