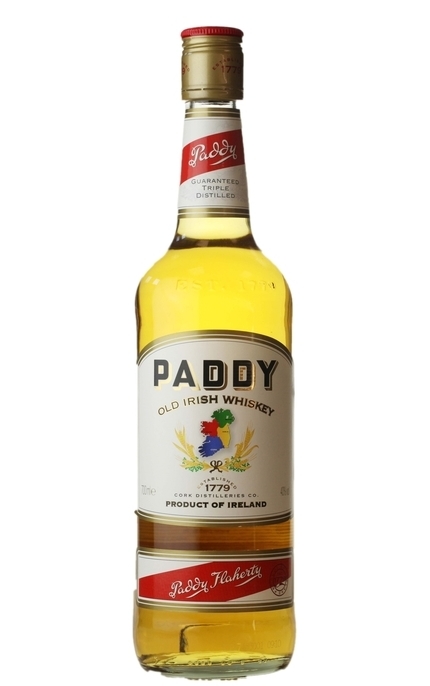 Product of:

Ireland (Eire)
The old whiskey of Cork, originally produced by the Cork Distillers Company, established in 1779. Now owned and made by Irish Distillers but still produced at Midleton. Paddy is a blend of continuously distilled grain whiskey and triple pot distilled six year old pot still whiskey.
Named after Paddy O'Flaherty, a salesman for Cork Distilleries in the 1920's who'd ride into town on his bike and visit pubs where he would buy himself and everyone else at the bar a shot of his company's whiskey. This put pressure on the landlord to ensure they had stock the whiskey for when Paddy visited. When re-ordering the company's whiskey landlord's started to ask for "a dozen more of Paddy Flaherty's whiskey". Cork Distillers started to put Paddy Flaherty at the bottom of the label and eventually labelled the whiskey simply as Paddy. The label is also easily recognised by the multi-coloured map of Ireland on the label.
Review and Tasting
Sampled on 17/02/2013
Appearance:
Clear, light golden amber.
Aroma:
Barley rich doughy bread and vanilla with stewed apple and pears. Delicate hints of cinnamon.
Taste:
Light bodied, rich buttery barley with delicate spice and cream of soda vanilla. Almost creamy mouthfeel.
Aftertaste:
Creamy barley and delicate spice.
Product Information
Closure: Screw / Stelvin cap

More about Paddy Irish Whiskey