Product of:

Mexico
This 100% agave Tequila is aged for over a year in small French oak re-charred casks.
Review and Tasting
Sampled on 16/06/2016
Appearance:
Clear, coppery amber..
Aroma:
Roasted coconut, toffee-apple and cigar box with spicy wood and perfumed notes.
Taste:
Wood and spicy with generous dried fruit and nuts, caramel, chocolate and roasted agave.
Aftertaste:
Dry woody finish with spicy toffee and black pepper spice.
Overall:
Full-bodied with assertive dry oak, enlivening black pepper, roasted coconut, nuts, toffee-apple and cigar box
Product Information
Barcode UPC: 5 029977 351026
Bottle Size: 700 ml
Closure: Natural cork stopper

More about 1800 Añejo Tequila (38%)
Tequila classifications, categories & classes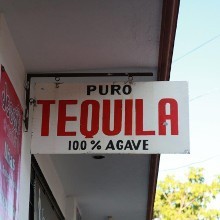 There are two main classifications of tequila, 'Mixto' and '100% Agave'. These two categories of tequila are further categorised according to whether or