José Cuervo Reserva de la Familia Platino
Product of:

Mexico
Launched in the Autumn of 2007, this 100% agave blanco addition to Reserva de la Familia range is made only using estate grown 10-12 year old agaves. The limited edition, individually numbered, hand-signed, hand-dipped wax seal and a cork closure bottles come in a decorated wooden gift box.
La Familia Platino benefits from 'Escencia de Agave', a propriety method which apparently captures the steam emitted during the cooking process. This is condensed (turned back to water), distilled to purify and then used to dilute the tequila to bottling strength.

Review and Tasting
Sampled on 06/06/2011
Appearance:
[bottle No. 04744 dated 05-04-07] Crystal clear.
Aroma:
Chargrilled vegetable and linseed oil with good agave.
Taste:
The palate also has vegetable notes, fried zucini and unripe pear.
Aftertaste:
Finishes dry with slightly peppered notes and enduring agave flavours.
Product Information
Closure: Wax-sealed synthetic cork stopper

More about José Cuervo Reserva de la Familia Platino
Tequila classifications, categories & classes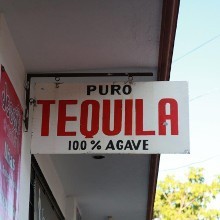 There are two main classifications of tequila, 'Mixto' and '100% Agave'. These two categories of tequila are further categorised according to whether or