Product of:

Mexico
Only 5,544 bottles of this estate bottled añejo where produced with all the agave soured form a single field called El Vergel (The Orchard) which lies at over 2,000 metres (6,500 feet) above sea level. It is aged exactly one year in third fill white oak ex American whiskey casks.
Ocho produced as a collaboration between Tomas Estes and the Camarena family. Tomas is the man behind London's famous Café Pacific and La Perla restaurants and for decades the foremost champion of the tequila category in Europe, while Felipe Camarena is a renowned Master Tequila Distiller and one of the sons of Don Felipe.

Ocho is an estate-grown, 100% agave tequila but is particularly noteworthy due to being the first ever vintage tequila with each release marked with its exact year of harvest and the a single field where the agave plants used where harvested from. Unlike other tequilas blended to be consistent from one year to the next, the makers of Ocho are happy for each vintage to have a quite different character.
The Camarena estate lies straddles the town of Arandas in the heart of the renowned Los Altos (highland) region, acknowledged by the C.R.T. [the Tequila Regulatory Council] as being the best possible district for agave. The agave used to make Ocho are slow cooked at a low temperature in brick oven for 36 hours.

Fermentation is achieved using only airborne natural yeast in wooden pine open vats and lasts 48-72 hours and all process water is sourced from a spring on the property. Pot stills are used for distillation, the first in stainless steel and the second in copper with the final distillate a low 48-49% abv, so very flavoursome.

So why the name Ocho, Spanish for '8'? The reasons are numerous and include: the Camarena family are in their 8th decade of tequila production, it takes an average of 8 years before the agave are harvested, it takes approximately 8 agave to fill one bottle and the brand was launched in 2008.

Review and Tasting
Sampled on 01/02/2010
Aroma:
Lightly citrus, vanilla, honeyed nose with bursts of green pepper and menthol.
Taste:
Salty buttery palate is comparatively low on oak influence but is strong on vegetable notes.
Aftertaste:
Characterful tequila that as befits its low production will hardly be to every palate but tequila aficionados will love.
Product Information
Closure: Screw / Stelvin cap

Tequila classifications, categories & classes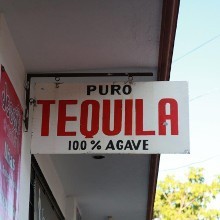 There are two main classifications of tequila, 'Mixto' and '100% Agave'. These two categories of tequila are further categorised according to whether or