Saliza Amaretto Veneziano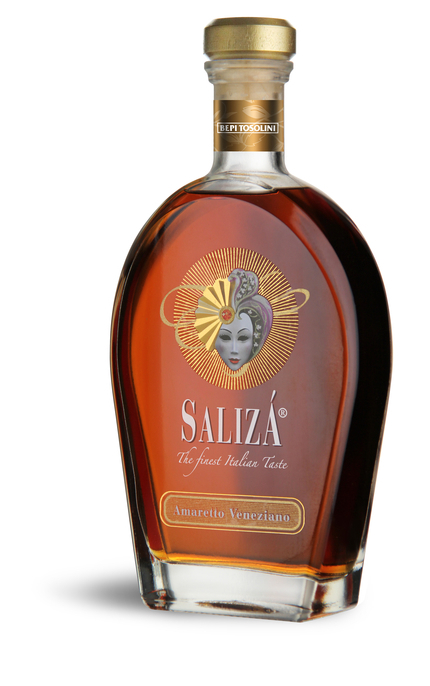 Product of:

Italy
Bepi Tosolini Salizá is a traditionally made Italian amaretto made with crushed almonds rather than concentrates or extracts. Formerly named Mascarada Amaretto Veneziano, The Salizá name feres to an old Venetian legend.
Salizá Amaretto is produced by the family owned and run Tosolini Distillery, better known for their 'Most' grappa. The distillery was established by Bepi Tosolini soon after the Second World War and is now run by his three grandchildren Giuseppe, Bruno and Lisa.

To quote the lovely Lisa Tosolini, "Our amaretto is made as the traditional and artisanal recipe, by infusing almonds in alcohol for a couple of weeks and then distilling with a special still used for botanical extraction. Once the distillation process is finished we make the final blend and add alcohol, sugar and caramel (for the dark colour). Nothing else. No aromas, no artificial flavours. All is natural. In fact there is a secret ingredient not mentioned (all families recipes as secrets) it should be kept secret but just for your information we put a few drops of aged brandy which gives the amaretto a richer aroma and taste."

Lisa goes on to say, "About the liqueur amaretto, with its unique taste it is part of the Italian tradition. At the beginning of the last century, this elixir made with roasted sugar and bitter almonds rejoiced parties and balls at the noble palaces, especially in Venice where it later became a symbol of friendship and affection. The legend tells that the Venetian Giacomo Casanova, adventurer, writer and famous lover, used it to end his nights with noble women who fell ravished at his feet. The amaretto is by far the most renowned Italian liqueur in the world and its name is always maintained in its original form to remind its Italian origin and quality.

Commenting on the Mascarada Amaretto in 2010, Lisa said "The image on the bottle is a recall to Venice and the word 'Mascarda' means mask in the venetian dialect, we found it in an illustration of the book 'Histoire de ma vie' written by Giacomo Casanova."
Review and Tasting
Sampled on 27/10/2015
Appearance:
Clear, golden amber.
Aroma:
Inviting toasted almond and dried apricot with vanilla and a hint of orange zest.
Taste:
Lightly syrupy with marzipan, macaroon, toasted almond and vanilla. Hints of chocolate and orange zest.
Aftertaste:
Toasty macaroon, marzipan, caramel and vanilla with faint chocolate and zesty orange.
Overall:
Dry toasty and subtle zesty citrus notes help balance sweetness while adding a complexity not found in lesser amarettos.
Product Information
Barcode UPC: 8 009440 009750
Bottle Size: 700 ml
Closure: Natural cork stopper

More about Saliza Amaretto Veneziano