Plymouth Gin Navy Strength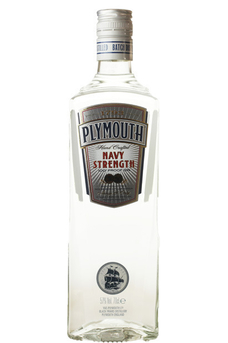 Product of:

United Kingdom
By 1850 Coates & Co, the makers of Plymouth gin, were supplying over 1,000 casks of Navy strength gin to the British Royal Navy each year. Naval officers would mix it with Angostura aromatic bitters and lime juice for 'medicinal' purposes.
The high strength was important as this meant the gin could be spilt on gunpowder without affecting its ability to ignite when needed in battle. A sensible precaution, given casks of gunpowder and gin were stored alongside each other in the ship's hold. However, British Navy Strength actually is 54.5% alc./vol., at least that's the strength specified by the Navy's Victualling Board for the rum issued as a daily tot to its seaman. The higher 57% alc./vol. strength is actually English Proof, which also has its origins in gun powder testing of proof and the adoption of Sikes' new scale in 1818.

Plymouth Gin's navy strength was reintroduced in 1993 when Desmond Payne, the master distiller at the time, sought to create a gin to celebrate Coates & Co's 200th anniversary.
Review and Tasting
Sampled on 08/08/2012
Appearance:
Crystal clear.
Aroma:
The addition of a little water releases a wonderfully floral, citrus nose with strong notes of lavender, camphor and pine.
Taste:
Supercharged Plymouth in both flavour and strength. The wonderfully flavoursome palate includes more floral notes with rounded lemon and sage coriander, lemon zest and clean juniper notes.
Aftertaste:
Pine freshness dominates with spicy naan bread and lingering citrus zest.
Product Information
Barcode UPC: 5 000299 608050 >
Bottle Size: 700 ml
Closure: Screw / Stelvin cap

More about Plymouth Gin Navy Strength