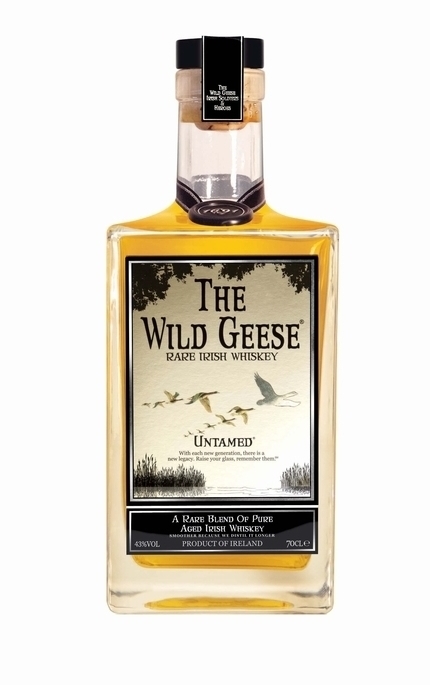 Product of:

Ireland (Eire)
A blend of Irish malt and grain whisky made by Cooley Distillery and mainly aged in first-fill ex-bourbon barrels with some second-fill also used. How long this whiskey is matured for is not disclosed.
The Wild Geese brand is owned by Avalon Group Inc. and their Irish whiskey range joins a line-up of third-party distilled spirits which includes Wild Geese Rum. Launched in May 2012, the whiskies are made by Ireland's Cooley Distillery (now owned by Beam Inc.) using what the brand owners describe as a "unique Extended Double Distillation process". When asked exactly what this was we were told, "The distillation is over a longer period and a lower heat". We'd guess Cooley distil their own branded whiskies equally as slowly in which case this would hardly be unique. Sounds distinctly like marking puffery.

The brand name is not an ill-conceived attempt to piggyback on Grey Goose. (At least we hope it's not). In Irish history the term 'Wild Geese' generally refers to Irish soldiers who have left the Ireland to serve as mercenaries in continental European armies, particularly during the 16th, 17th and 18th centuries. The Wild Geese Collection of Irish whiskies in particular celebrates the 1691 'Flight of The Wild Geese' which occurred after the Treaty of Limerick.

During the Williamite War in Ireland (1688–91), Louis XIV gave military and financial support to the Irish Jacobites, including his sending 6,000 French troops. In return, in 1690, Louis demanded that the Irish send 6,000 of their troops to fight in the Nine Years War against the Dutch. Accordingly, five regiments, known as the 'French Irish Brigade', were sent. The following year, in 1691, the Irish Jacobites under Patrick Sarsfield surrendered and he signed the Treaty of Limerick. His troops were permitted to leave Ireland for service in the French Army in return for their surrender so 14,000 soldiers and 10,000 women and children left for France. This mass emigration has since become known as the Flight of the Wild Geese.

Some might say this whiskey brand represents a cynical attempt to market to patriotic Irish Americans and indeed in the USA we note that this range of whiskies goes by the longer brand name, "The Wild Geese Irish Soldiers & Heroes Irish Whiskey Collection." Tellingly the website says, "Wherever you are in the world, if you are of Irish descent you are part of this story and entitled to call yourself 'Wild Geese'. (For the record I boast more than a little Irish decent -thanks mum.)
Review and Tasting
Sampled on 13/08/2012
Appearance:
Clear, mid golden.
Aroma:
Butterscotch, slightly burnt crème brûlée, vanilla and lemon zest.
Taste:
Burnt notes continue through to the slightly honey sweet and buttery toffee malty palate with pleasing toasty notes, cleansing citrus zest and a mild spicy oak garnish.
Aftertaste:
Butterscotch and light cinnamon spice. Easy but perhaps lacking real depth of flavour.
More about Wild Geese Rare Irish