Água Luca is distilled from the fermented juice of hand cut sugar cane within 24 hours of harvesting, then filtered 12 times. So it doesn't take a rocket scientist to deduce that it is a cachaça developed for the American market rather than a spirit discovered in Brazil.
The sleek cylindrical bottle, by Saverglass of France, features a contemporary take on the Brazilian flag. The familiar white stars and blue background are printed on the back and can be viewed through a yellow rhombus containing the brand name on the front.

Review and Tasting
Sampled on 03/01/2011
Appearance:
Crystal clear.
Aroma:
Demerara sugar with nutty whiffs
Taste:
Slightly sweet, spirity palate. Extensive filtration has certainly cleaned Água Luca up but some rustic cachaça character remains.
Aftertaste:
I find it so sweet that I wonder whether sugar has been added after distillation.
Product Information
Closure: Screw / Stelvin cap

Cachaça cocktail recipes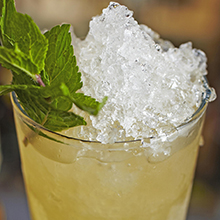 View 87 Cachaça recipes on Difford's Guide