Product of:

Mexico
D'Antano means 'old-fashioned' or 'old style' and this fabulous tequila is still made using very traditional techniques, complete with mules still used to pull the Tahoma wheel that crushes the piñas. This Extra añejo tequila is typically blended from five barrels, each aged for around five years.
The rounded stubby embossed bottles come packaged in heavy wooden boxes.

Review and Tasting
Sampled on 14/09/2011
Appearance:
Clear, dark shiny golden.
Aroma:
Earthy, floral nose with cherry, vanilla, chocolate and butterscotch aromas.
Taste:
Integrated fruity palate with rich buttery oak and a touch of vanilla.
Aftertaste:
Oaky flavours growth through the long slightly smoky finish.
Product Information
Closure: Natural cork stopper

More about Siete Leguas D'Antano
Tequila classifications, categories & classes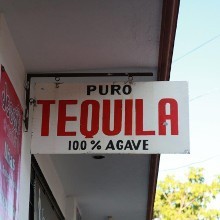 There are two main classifications of tequila, 'Mixto' and '100% Agave'. These two categories of tequila are further categorised according to whether or