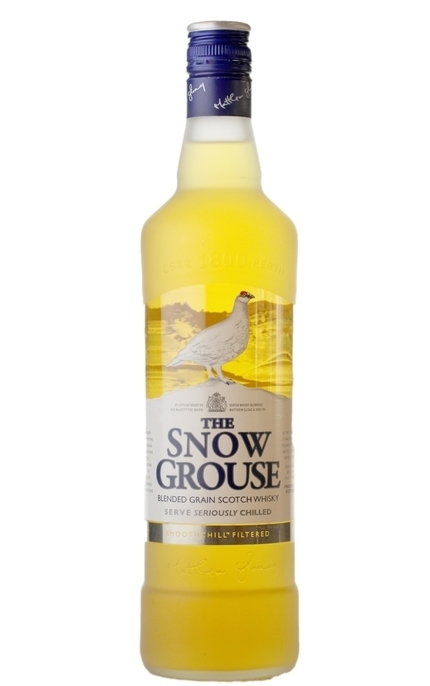 Product of:

United Kingdom
Billed as being the "first Scotch whisky specially created to be served straight from the freezer", this blended Scotch grain whisky is named after a hardy variety of grouse that lives in the highest mountains of the Scottish Highlands.
In the summer this tough bird has a mottled brown plumage but in the winter grows an extra layer of white feathers which provide warmth and make the bird completely white, so camouflaging it in its snowy environment.

The Snow Grouse is a Scotch blended grain whisky made from maize and wheat. This whisky is chill filtered prior to bottling using a process the brand calls "Smoothchill Filtration". It is designed to be served straight from the freezer and when served this way its makers claim that "consumers find the whisky has an even more delicate flavour, is thicker in consistency and sweeter than its usual dram".

In 2011, the bottle was redesigned – previously the graphics and frosting were applied by a plastic sleeve whereas the new bottle has been directly etches and printed on the glass.
Review and Tasting
Sampled on 01/02/2011
Appearance:
Clear, pale straw golden yellow.
Aroma:
Toffee, vanilla nose with an aroma reminiscent of nutty wet paper-mâché.
Taste:
Somewhat aggressive, butterscotch, vanilla, toffee palate with creamy macadamia nuts.
Aftertaste:
Peppery finish screams for cooling down so we then tried as recommended, serving it