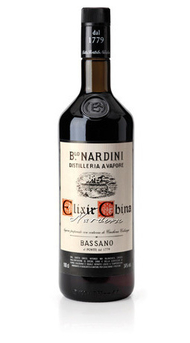 Product of:

Italy
Elixir China is a very traditional Nardini liqueur made by infusing cinchona calisaya bark, condurango bark, bitter orange peel, mace, coriander, cinnamon and cloves with grain neutral alcohol. Sugar is added but this is far from being a sweet liqueur.
Review and Tasting
Sampled on 25/01/2014
Appearance:
Clear, deep amber with bronze glints.
Aroma:
Apple pie, pastry, cinnamon and clove.
Taste:
Earthy barky flavours and herbal complexity with muscovado sugar, orange peel, coriander, cinnamon and cloves. A faint smokiness pervades. A light sweetness amplifies the flavours and balances herbal/barky bitterness.
Aftertaste:
Cinnamon and clove spice with lingering barky bitterness.
Product Information
Barcode UPC: 8 000513 200135
Bottle Size: 700 ml
Closure: Screw / Stelvin cap

More about Nardini Elixir China