Auchentoshan 1975 Limited Edition
Product of:

United Kingdom
This 1975 Auchentoshan has been matured for 35 years in North American oak Bourbon barrels in Warehouse Number 3, beneath the Kilpatrick Hills. Its 'limited edition' reference in the name reflects the fact that only 500 bottles have been released world-wide.
Auchentoshan 1975 is presented in a black double fronted box and bottled at cask strength without chill filtration and sealed using natural cork.

Review and Tasting
Sampled on 01/05/2011
Appearance:
Clear, golden amber.
Aroma:
A generous rum and raison nose with pencil shavings, toffee, buttery butterscotch and floral honey aromas.
Taste:
Hydrated to approx. 40% yields the lightly spiced woody, yet slightly sweet palate betrays this whisky's long age but the oak is perfectly integrated with malted barley, honey and fudge.
Aftertaste:
This is a mellow of gentleman of a whisky but he has retained some of his youthful spice. Long, sweet barley finish with just enough spicy oak.
Product Information
Closure: Natural cork stopper

More about Auchentoshan 1975 Limited Edition
Whisky - Lowland single malt scotch whisky cocktail recipes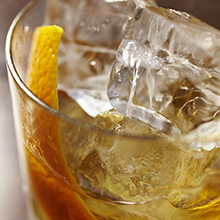 View 2 Whisky - Lowland single malt scotch whisky recipes on Difford's Guide