Product of:

Mexico
Fortaleza Añejo is a 100% agave tequila made using traditional techniques including brick ovens, a Tahona wheel, fermentation in open air wooden tanks and double distillation copper pot stills. The tequila is aged 23 months in American oak before bottling in bottles hand-blown in Mexico.

Review and Tasting
Sampled on 21/06/2015
Appearance:
(sample No. A-L-22) Clear, pale golden amber.
Aroma:
Caramel, vanilla, buttery butterscotch and roasted agave with light cinnamon and nutmeg spice, plump raisins and not quite ripe pineapple. Floral notes emerge with time.
Taste:
Delicately spicy and faintly sweet with chewy oily texture. Flavours of caramel, butterscotch, agave and well-judged dry cinnamon spiced oak.
Aftertaste:
Long, lingering and delicately cinnamon spiced.
Overall:
Rich caramel and butterscotch roasted agave with dry spicy oak and cinnamon spice. A fabulous añejo showing its extended aging period.
Product Information
Barcode UPC: 7 502221 968105
Bottle Size: 700 ml
Closure: Natural cork stopper

More about Fortaleza Añejo
Tequila classifications, categories & classes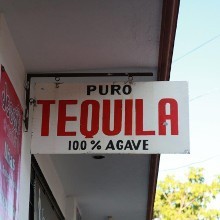 There are two main classifications of tequila, 'Mixto' and '100% Agave'. These two categories of tequila are further categorised according to whether or