Gabriel Boudier Mustard Liqueur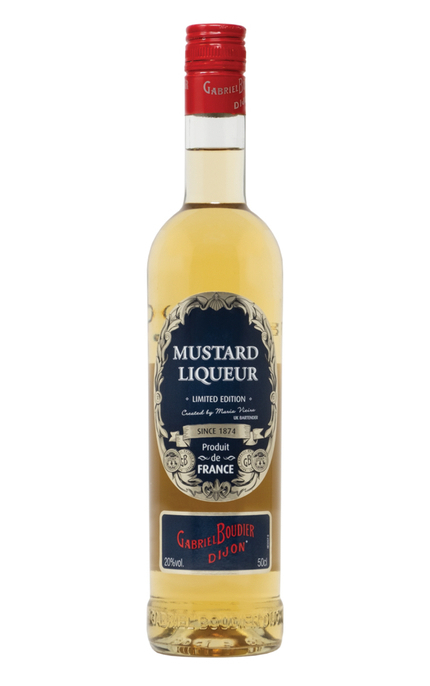 Product of:

France
The idea of Maria Vieira who won the 2018 Gabriel Boudier Wizard competition held in Dijon in January 2018. The competition challenges bartenders to come up with an original liqueur that is not already commercially available with the winning recipe put into production by Gabriel Boudier.
Finalists were judged not only on their liqueur but also on their marketing plan to launch, along with a demonstration of how the liqueur could be used both in a simple serve and in a signature serve. The other finalists were:

Jake Mellish – Boilermaker, Nottingham – Tonka bean liqueur
James Bowker – Wilderness, Birmingham – Meadowsweet liqueur
Caitlin Tulloch - Panda & Sons, Edinburgh - Chamomile liqueur

Maria impressed the judges with a polished presentation, demonstrating a good technical understanding to produce her liqueur with the unique mustard flavour being perfectly balanced in both cocktail recipes. Drawing her inspiration from Dijon, Maria's recipe uses both black and brown mustard.

Maria's cocktail recipes:

Bloody Mustard
- 20ml Mustard Liqueur
- 20ml Saffron Gin
- 15ml Lemon juice
- 80ml Tomato mix
- 10ml Bloody Mary mix

Eye of Newt
- 40ml Dry Marsala
- 10ml Mustard Liqueur
- top with champagne
- 3 dashes of smoked malic acid solution.

Review and Tasting
Sample not received so no tasting notes available.
Product Information
Barcode UPC: 3252560904138
Bottle Size: 500 ml
Closure: Screw / Stelvin cap

Composition
Sugar content 120g/litre
C02 injected? No
Allergens and Additives
Contains Sugar (or other sweetener)

More about Gabriel Boudier Mustard Liqueur