White Lyan
Photography by diffordsguide.com
Words by Ian Cameron on 23-Apr-2014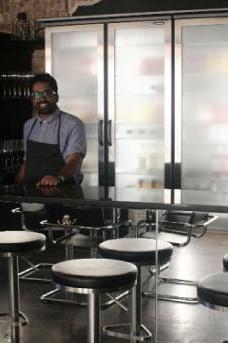 Address: 153-155 Hoxton Street, (near Crondall St), London, N1 6PJ, United Kingdom
Tel: +44 (0)203 011 1153
Website: View bar's website
Hours: Tue-Sun 6pm-midnight, Mon closed
Door: Open door
Style: Cocktail bar
Recommended for: Cocktails
Price guide: Middling
Food: No food
Established: 2013
Owned by: Ryan Chetiyawardana and Iain Griffiths

Review
White Lyan, the bar with no ice (click here to read in more detail about it) is a thought-provoking bar where there are no drinks made to order, where everything has been pre-batched and bottled. Instead, in this newly stripped-out pub, Ryan Chetiyawardana and right hand man Iain Griffiths don't rely on the theatre, techniques and shiny instruments of craft cocktails but instead simply pour them out without any fuss and use the extra time to shoot the breeze. In the wrong hands you'd sense the lack of labelled brands, shaking or stirring could lead to awkward silences but no such problem exists with such accomplished hosts and it makes for a relaxed, congenial atmosphere.
The drinks themselves are a collection of 24 original cocktails, priced £8-9, where house-recipe spirits are flavoured with everything from bone reductions to ash, grass, ambergris, botanical tinctures and woody distillates. No surprises that the drinks come balanced: most of the ones we tried were no-holds-barred, full-flavoured combinations - even the lighter serves are rich and mouth-filling. You may find yourself lamenting the clink of ice in a glass, the feel of ice against your lips, perhaps craving a long, refreshing serve based on crushed ice. For those reasons it won't appeal to everyone and will inevitably lead to accusations that this is the ultimate bartenders' conceit, but it's a truly original concept and they do serve beer and wine.
[Diff] Be sure to try the Moby Dick Sazerac which is smoothed with ambergris and the Beeswax Old Fashioned.