The Canny Man's
Photography by diffordsguide.com
Words by Simon Difford on 08-May-2017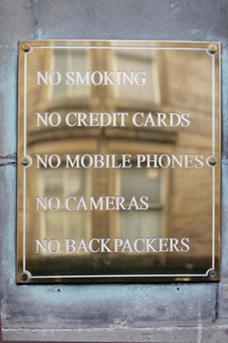 Address: 237 Morningside Road, Edinburgh, Midlothian, EH10 4QU, United Kingdom
Tel: +44 (0)131 447 1484
Email: info@cannymans.co.uk
Website: View bar's website
Hours: Mon-Wed 11am-11pm, Thu 11am-midnight, Fri 11am-1am, Sat 11am-midnight, Sun 11am-11pm
Door: Go early
Style: Pub traditional
Recommended for: Alfresco, Food, Historic interest, Spirits
Price guide: Middling
Food: Plates & dishes
Established: 187

Review
More like a conjuring shop, a magician's house or an early morning market stall than any form of beverage outlet, this is one of the most unusual and likable pubs we've encountered. Its tiny rooms and alcoves are filled with what look like an old lady's keepsakes - stuffed birds, crockery and other clutter cover the walls and ceilings.
The larger of the two bars houses shelf upon shelf of malts, allegedly the biggest whisky selection of any bar in Edinburgh. If in doubt as to what to order, try the malt of the week or opt for draught Caledonian and Belhaven beers.
The huge selection of malt whiskies and the insanely varied paraphernalia meld with the efficient staff in their white shirts and black ties to create a magical place.
The food offering here centres around Smørrebrød (open) sandwiches and fresh seafood and you should endeavour to reserve a table in advance.
The Canny Man is frequented by canny locals and the odd tourist who journey from the centre of town to experience what is a very special pub. We recommend you join them. However, be warned, neither the landlord nor the locals will appreciate boisterous behaviour, cameras, credit cards, dogs...