The Porter House
Photography by diffordsguide.com
last reviewed on 21-Jul-2009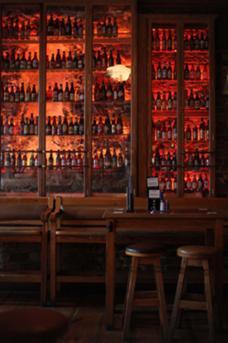 Address: 16-18 Parliament Street, (just off Dame Street), Dublin, County Dublin, Ireland (Eire)
Tel: +353 16 798 847
Website: View bar's website
Hours: Daily 11.30am midnight
Door: Go early
Style: Pub contemporary
Recommended for: Beer
Price guide: Middling
Food: Plates & dishes

Review
Porterhouse may lack the heritage and old world charm of other Dublin pubs but it remains an institution, one which has grown from this original brew pub into a chain of branded pubs with branches as far afield as London.
Porterhouse remains unashamedly a beer pub with 20 brews on draught, including three of the Porterhouse's own stouts, and over 180 of the world's best bottled beers.
The folk at Porterhouse continue to operate their own brewery, now a larger off-site affair which supplies all of their pubs. They still brew using traditional techniques and despatch their beers unpasteurised. It is noticeable that of the many pubs there are in Dublin, you will find this is one of the few that dispenses traditional ale by hand pump.
You will find an international crowd here all united by a love of beer, good times and appreciation of the live bands which play here on Thursdays, Fridays and Saturdays. You are pretty much assured a good time.