Product of:

United Kingdom
Aged more than 40 years, this malt was distilled and put into American white oak casks on 13 February 1965 and then finished in Gonzalez Byass Oloroso sherry butts. Just 1,000 bottles of this malt were released in May 2007.
Review and Tasting
Sampled on 02/10/2011
Appearance:
Clear, mahogany-amber with light burnished copper highlights.
Aroma:
Pungent nutty Christmas pudding, spread with orange marmalade and doused in bourbon with orange zest and subtle spicy oak aromas.
Taste:
Dry spicy oak comes to the fore of this gloriously fruity palate, reminiscent of the crust of a Christmas pudding which has been cooked and then oven-baked. The palate is so full-bodied that it's almost chewy, with tea tannins, dark chocolate, toffee, bitter orange, sherry and prunes.
Aftertaste:
Big long fruity oaky finish with lingering tobacco and oaky dryness.
Product Information
Closure: Natural cork stopper

More about The Dalmore 40 Years Old
Whisky - Highland single malt Scotch whisky cocktail recipes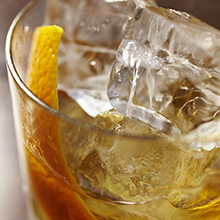 View 1 Whisky - Highland single malt Scotch whisky recipes on Difford's Guide