Product of:

Mexico
Aged for 16 months in Grand Cru Sauternes wine casks and cognac casks - four months longer than is legally required for an añejo tequila. This unusual use of wood from two French regions allows Excellia to be influenced by the flavours of the Sauternes and cognac previously held in the casks.
Made using 100% twelve-year-old blue agave, Excellia tequilas are aged in Grand Cru Sauternes wine casks from France. Excellia is a collaboration between Jean Sébastien Robicquet, the brains behind Cîroc vodka, and Carlos Camarena, the respected Mexican tequila distiller.

Excellia is made at the Camarena family's La Altena Distillery, Arandas in the Highlands of Jalisco using estate-grown agave plants, the piña of which are slowly cooked in traditional brick ovens before being crushed using a traditional tahona wheel. The resulting juice and pulp are fermented in wooden vats and then double distilled in copper pot stills.

The tequila is then aged for eight months in an underground cellar in casks that previously held Grand Cru Sauternes wine and casks which previously held cognac. The tequilas are then formed from a blend of tequila aged in both these casks.
Review and Tasting
Sampled on 06/10/2011
Appearance:
Clear, bright golden.
Aroma:
Spicy, lightly woody nose with cinnamon, cloves, gingerbread and glue-like herbaceous aromas.
Taste:
Spicy (ginger and white pepper in particular) wood influenced palate with tannins giving an almost chewy mouthfeel but balanced by subtle sweet fruit and honeyed flavours.
Aftertaste:
The long spicy finish mellows with very subtle chocolate flavours emerging.
Product Information
Closure: Screw / Stelvin cap

More about Excellia Añejo
Tequila classifications, categories & classes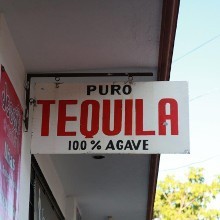 There are two main classifications of tequila, 'Mixto' and '100% Agave'. These two categories of tequila are further categorised according to whether or