Choose your preferred shop:
Product of:

United Kingdom
Until the early eighties, when the age statement disappeared from what was then Glenfiddich Special Reserve, its minimum age was eight years old. Happily the age statement was reintroduced in 2000, at a twelve year minimum. It is now "our signature malt".
Review and Tasting
Sampled on 10/08/2014
Appearance:
Clear, coppery amber.
Aroma:
Apple pie and vanilla custard with cinnamon and light honey, dried apricot and peach.
Taste:
Light, mellow and almost creamy with cooked apple, tinned peaches, cinnamon spice, honey, butterscotch, crème caramel, vanilla custard and underlying nuttiness.
Aftertaste:
Zesty citrus, crème caramel, cooked apple and cinnamon spice.
Choose your preferred shop:
More about Glenfiddich 12 Years Old
Whisky - Speyside single malt Scotch whisky cocktail recipes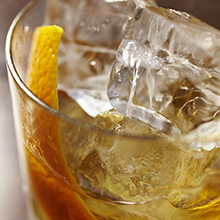 View 23 Whisky - Speyside single malt Scotch whisky recipes on Difford's Guide