Buy direct from
The Whisky Exchange
Bottle size: 70cl

Product of:

United Kingdom
This 12 year old is the entry level malt from Bowmore but is a big malt for its tender years and price.
Review and Tasting
Sampled on 31/12/2013
Appearance:
Clear, mid-deep golden amber.
Aroma:
Peat smoked honey, sea air and hay bales with linseed oiled leather, ash, eucalyptus and pear.
Taste:
Surprisingly honeyed palate that's dominated by speat moke, dry oak, salt and seaweed with lemon zest, ripe pear and vanilla.
Aftertaste:
Huge, long peat smoked finish with lingering salt, grassiness and ash.
Buy direct from
The Whisky Exchange
Bottle size: 70cl

Product Information
Barcode UPC: 5 010496 081013
Bottle Size: 700 ml
Closure: Natural cork stopper

More about Bowmore 12 Year Old
Whisky - Islay single malt Scotch whisky cocktail recipes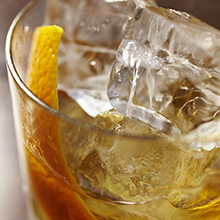 View 71 Whisky - Islay single malt Scotch whisky recipes on Difford's Guide