7 (Siete) Leguas Reposado
Product of:

Mexico
100% agave Highland tequila aged 8-10 months in ex-bourbon casks which are refilled as many as 20 times. It is blended from the output of two distilleries, one using a mule-pulled tahona wheel and fermentation with fibres, the other a modern roller mill. Both distilleries use tradition brick ovens.
Review and Tasting
Sampled on 19/11/2011
Appearance:
Clear, very slight green tinge straw gold with golden highlights.
Aroma:
Subtle, fruity (peach and pear) nose with pine, fresh dill and agave aromas.
Taste:
Rounded and full, slightly sweet apply palate with vanilla, ripe mango, banana and peaches. Cleansing citrus notes. A tingle of cinnamon and black pepper spice adds character and balance.
Aftertaste:
Long herbal finish with lingering agave flavours, delicately enlivening salt and pepper spice and citrus.
Product Information
Closure: Natural cork stopper

More about 7 (Siete) Leguas Reposado
Tequila classifications, categories & classes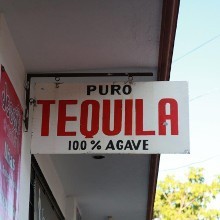 There are two main classifications of tequila, 'Mixto' and '100% Agave'. These two categories of tequila are further categorised according to whether or