José Cuervo Reserva de la Familia Añejo (38%)
Product of:

Mexico
Launched in 1995 to celebrate the second centenary of Jose Maria Guadalupe Cuervo being granted the first licence to distil tequila, José Cuervo Reserva de la Familia is a 100% extra añejo tequila.
Ten year old agaves are hand-selected and harvested just before the rainy season when at their peak. These are roasted in a traditional masonry oven for 72 hours - half the temperature and twice the usual cooking temperature and time.

Reserva de la Familia is aged for five years in a combination of new, 'toasted' French Limousin and ex-American whiskey casks, with addition of some reserve tequilas aged for more than 30 years. Steam collected from the ovens is condensed, distilled to purify and then used to hydrate the tequila to bottling strength.

Each bottle is hand-numbered, dated and sealed with wax. Every year the Cuervo family commissions a different Mexican artist to design the new collectible hand-painted wooden box. Only 17,000 bottles of Reserva De La Familia are produced each year.
Review and Tasting
Sampled on 06/06/2011
Appearance:
[bottle No. 2343 dated 26-07-06] Clear amber.
Aroma:
Slightly smoky, vanilla, cacao with espresso coffee aromas.
Taste:
Elegant, agave with gingerbread, cinnamon, marzipan, bitter chocolate, coffee and a light citrus flavours with a slightly smoky garnish.
Aftertaste:
The finish is almost cognac like with delicate smoky brandy notes.
Product Information
Closure: Wax-sealed natural cork stopper

More about José Cuervo Reserva de la Familia Añejo (38%)
Tequila classifications, categories & classes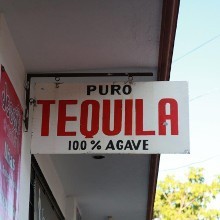 There are two main classifications of tequila, 'Mixto' and '100% Agave'. These two categories of tequila are further categorised according to whether or