José Cuervo Tradicional Reposado (38%)
Product of:

Mexico
Tradicional Reposado recreates the tequila first created by the Cuervo family in 1795 and the number of años (years) recorded on each bottle's label indicates the year of production. For example '214' años would indicate the tequila was made in 2009 (1795+214=2009).
This 100% agave reposado tequila is only produced in limited quantities (although what that limited quantity might be is not communicated) and sold in individually numbered bottles. Jose Cuervo
Review and Tasting
Sampled on 06/06/2011
Aroma:
An intriguing complex nose features hints of smoke, ripe banana and sweet yellow pepper.
Taste:
Wafts of smoke cross a chargrilled vegetable, woody palate spiced with nutmeg, cinnamon and delicate ginger.
Aftertaste:
A more subtle earthiness is equally balanced by hints of vanilla.
Product Information
Closure: Screw / Stelvin cap

More about José Cuervo Tradicional Reposado (38%)
Tequila classifications, categories & classes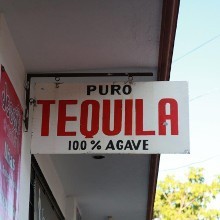 There are two main classifications of tequila, 'Mixto' and '100% Agave'. These two categories of tequila are further categorised according to whether or