Product of:

United Kingdom
Released on 31st May, this 2010 Supernova is the second such Ardbeg release and follows the 2009 edition. This ultra peaty expression is almost off the peat smoke scale at over 100 phenols per million and is some 40% more peaty than the distillery's already heavily peated flagship, Ardbeg Ten.
As the distillery's own press release says, "Despite its smokiness, Ardbeg is renowned for its delicious sweetness, a phenomenon that has affectionately become known as 'the peaty paradox'."

This SN2010 limited edition release has no age statement and is bottled at cask strength without chill filtration.
Review and Tasting
Sampled on 20/05/2010
Appearance:
Clear, pale straw.
Aroma:
Smoky wet wool nose – an Arran jumper at a seaside smoky bbq. Subtle aromas of sage, milk chocolate, chestnut and seaweed.
Taste:
(Diluted to approx. 40%) Remarkably easy (with dilution), tar smoke, moorish palate. Spicy, chilly, woody heat is wonderfully subdued and tamed by oily, salty chocolate notes.
Aftertaste:
We had to try without dilution and this 60% whopper, said "come and get me", but presented an amazingly tame yet flavoursome palate. Only on the undiluted finish did the full power show itself.
Product Information
Closure: Natural cork stopper

More about Ardbeg Supernova 2010
Whisky - Islay single malt Scotch whisky cocktail recipes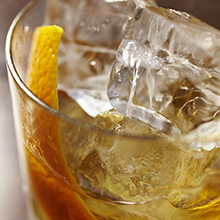 View 63 Whisky - Islay single malt Scotch whisky recipes on Difford's Guide