Four Roses 100 Anniversary Edition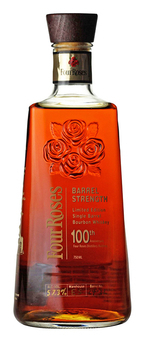 Product of:

United States
A limited edition, single barrel bottling produced in 2010 to celebrate Four Roses' Bonds Mill Road distillery's 100th anniversary, using 17-year-old casks to the OBSV recipe. This is the same as is used for Four Roses regular Single Barrel but with a different flavour profile due to the extra age.
This mash bill has slightly less corn so giving a spicier woody profile but also uses a fruity yeast culture which provides a good balance.
Four Roses 100 Anniversary Edition is bottled at barrel strength without chill filtration. Some 2,359 bottles were produced, with each numbered bottle recalling the warehouse code and barrel number from which it was bottled.


Review and Tasting
Sampled on 03/01/2011
Appearance:
(Bottle No. 1684, warehouse ES, barrel No.24-2L) Clear, bright rusty amber.
Aroma:
A glue-like nose (akin to UHU) but in a most appealing way with aromas of toffee-apple, candied fruit and sticky cherry, tobacco and clove-led spice.
Taste:
Diluted to approx. 40% abv produces a huge characterful and dry palate with a great balance of candied and jammy fruit with vanilla and dry smoky oak.
Aftertaste:
Lingering jammy, spiced oak finish with mellowing vanilla and burnt toffee.
Product Information
Closure: Natural cork stopper

More about Four Roses 100 Anniversary Edition