Chamucos Reposado Tequila
Product of:

Mexico
Chamucos, which loosely translates as 'boogie man, is a 100% agave reposado tequila produced by Premium de Jalisco in Mazamitla in southern Jalisco.
This high altitude of the Mazamitla region is unsuitable for agave cultivation with more rain forest than desert so Premium de Jalisco source agave from growers in both the highlands and lowlands. However, the cool climate allows for a long 7-10 day fermentation and gives the aging warehouse a unique environment.

Chamucos is made using autoclave ovens, a modern roller mill and double pot still distillation. Chamucos reposado is aged in new medium char American white oak casks sourced from Kentucky for eight months and packaged in hand-blown bottles finished with a natty rubber stopper instead of a cork. To open, apply pressure to one side and then the other side of the stopper to release it from the bottle.

Chamucos was originally created in 1997 by a movie director, Antonio Urrutia, a caricaturist and a young entrepreneur and was originally produced at Tequila Quiote (NOM 1433). Production was moved to Feliciano Vivanco y Asociados (NOM 1414) in 2008 before finally moving to Premium de Jalisco (NOM 1558) in 2010. Chamucos tequila is available in the UK courtesy of restaurateur and Mexican enthusiast Tom Conran (son of Sir Terence).
Review and Tasting
Sampled on 26/02/2012
Appearance:
Clear, pale straw yellow.
Aroma:
Good agave herbaceous, herbal nose with vanilla and subtle salty pine aromas.
Taste:
Robust, herbal agave palate with chargrilled peppers, elegant oak and enlivening paprika spice.
Aftertaste:
Long, dry, spicy herbal finish.
Product Information
Closure: Synthetic stopper

More about Chamucos Reposado Tequila
Tequila classifications, categories & classes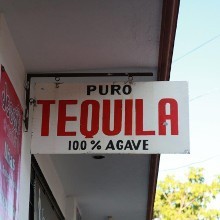 There are two main classifications of tequila, 'Mixto' and '100% Agave'. These two categories of tequila are further categorised according to whether or