Bruichladdich Black Art 1989 02.2 Aged 21 Years Product of:

United Kingdom
To quote Bruichladdich's production director, Jim McEwan, "We have a lot of different casks here, first growth wine, port, sherry and bourbon. To make Black Art I do really crazy stuff with these casks but I won't tell anybody what I do. It is my dark art."
Review and Tasting
Sampled on 05/05/2012
Appearance:
Clear, brick red bronze with copper tint.
Aroma:
Port/wine-like nose with peaty punnet of dark forest fruit, rose petals, basil and vanilla.
Taste:
Charcoal, soil, peat, red wine, port, red berry, sweet oak, burnt toast, metallic-like light iodine and rock salt. Surgical in its delivery.
Aftertaste:
Long, very long - salty ruby port with faint peat and anise. A malt to challenge a port 'n' brandy, just lacks finesse.
Product Information
Barcode UPC: 6 18105 00292 0
Bottle Size: 700 ml
Closure: Natural cork stopper

More about Bruichladdich Black Art 1989 02.2 Aged 21 Years
Whisky - Peated Scotch whisky cocktail recipes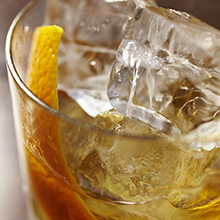 View 76 Whisky - Peated Scotch whisky recipes on Difford's Guide