Product of:

United Kingdom
Released September 2012, Galileo is a limited edition (how limited we're not told) commemorating an experiment where samples of Ardbeg and wood from casks were supplied to be sent to space to investigate the effects of zero gravity on flavour development.
Blended and bottled without chill-filtration in 2012, Galileo comprises whisky distilled in 1999 matured in a combination of ex-marsala casks and first-fill ex-Bourbon casks. Sadly it does not contain any space-aged whisky.

Review and Tasting
Sampled on 23/09/2012
Appearance:
Clear, mid golden with burnished gold highlights.
Aroma:
Coal tar sooty nose with Ardbeg's signature medicinal salty, smoky peat. Behind this, struggling for attention the marsala wine shows itself with a vanilla fruityness. Subtle aromas of ginger wine and coconut.
Taste:
Brawny with smoky sooty peat, sweet liquorice, smoky bacon, soy sauce, burnt fruitcake and sweet vanillins.
Aftertaste:
Coal Tar and lingering vanilla, damp woodiness and faint iodine.
Product Information
Closure: Natural cork stopper

More about Ardbeg Galileo
Whisky - Islay single malt Scotch whisky cocktail recipes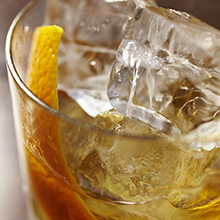 View 66 Whisky - Islay single malt Scotch whisky recipes on Difford's Guide