Buy direct from
The Whisky Exchange
Bottle size: 70cl

Product of:

United Kingdom
Created in 1899 by Master Blender A.J. Cammeron, the first master blender at John Dewar and Sons Ltd. Heavily influenced by Aberfeldy single Highland malt which is central to the blend. Dewar's White Label is the best selling Scotch whisky in the USA.
Review and Tasting
Sampled on 08/04/2019
Appearance:
Clear, light-mid golden amber.
Aroma:
New leather, beeswax, heather and honey with stewed pear, bamboo wood and pollen heavy blossom.
Taste:
Toasty malt, heather, toffee and fudge with ginger and black pepper spice. Faint apricot fruit, toasted almond, orange zest and wisps of smoke. With water, White Label is leathery and fruity with light spice.
Aftertaste:
Lightly smoky vanilla fudge, caramelised apples and black pepper spice.
Overall:
Fairly light in style with new leather, honey and vanilla fudge.
Buy direct from
The Whisky Exchange
Bottle size: 70cl

Product Information
Barcode UPC: 5 000277 001101
Bottle Size: 700 ml
Closure: Screw / Stelvin cap

Barcode UPC: 5 000277 000906
Bottle Size: 700 ml
Closure: Screw / Stelvin cap

More about Dewar's White Label
Whisky - Scotch whisky (blended) cocktail recipes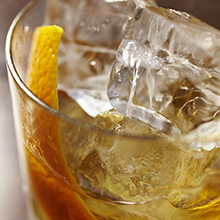 View 181 Whisky - Scotch whisky (blended) recipes on Difford's Guide