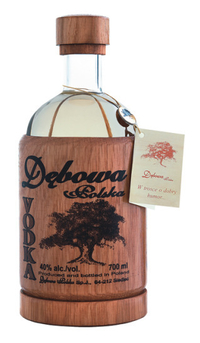 Product of:

Poland
Dębowa, pronounced 'Dem-Bov-A', means 'oak' in Polish and appropriately the bottle depicts a mature oak tree and contains a thin slither of oak. Some bottles even come encased in oak with an oak screw cap.
Review and Tasting
Sampled on 27/02/2013
Appearance:
(produced 24-Oct-12) Crystal clear.
Aroma:
Clean but characterful with subtle burnt toast, faint oaky vanilla and delicate spice.
Taste:
There's a creamy mouthfeel to this very slightly sweet vodka, which like the nose, has a toasty bready character with delicate oaky vanilla and black pepper spice.
Aftertaste:
Slightly nutty bready finish with subdued black pepper spice.
Product Information
Barcode UPC: 903983 400735
Bottle Size: 700 ml
Closure: Screw / Stelvin cap

More about Debowa (Oak) Vodka