Debonaire Special Reserve Honey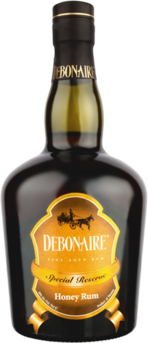 Product of:

Panama
Oak aged Panamanian rum infused with honey and then filtered.
Review and Tasting
Sampled on 28/04/2013
Appearance:
Clear, golden amber.
Aroma:
Rich honey and honeycomb with hints of cigar box.
Taste:
Sweet, rich honey. The honey flavours are so pronounced that they mask the aged rum notes which struggle to ground this sweetie.
Aftertaste:
Long lingering honey and delicate spiced wood.
Product Information
Closure: Natural cork stopper

More about Debonaire Special Reserve Honey