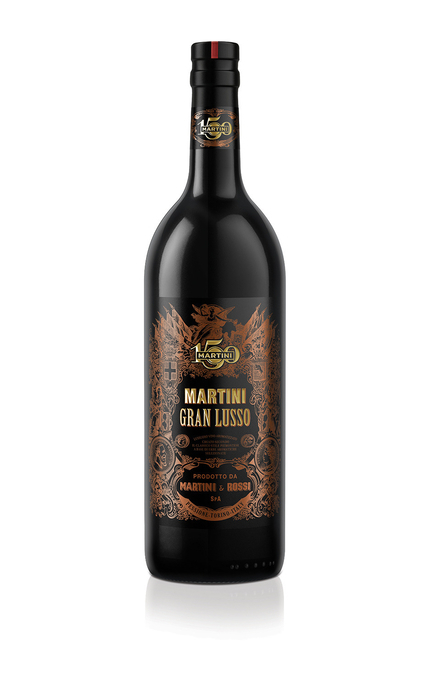 Product of:

Italy
Gran Lusso (meaning grand luxury in Italian) was unveiled on the 1st July 2013 at Pessione, the home of Martini & Rossi, to celebrate the company's 150th anniversary. This limited edition sweet vermouth was over eight years in the making and a single batch of just 150,000 bottles was produced.
Gran Lusso is made by combining two unique extracts, the first inspired by an historical Vermouth recipe is made with Moscato must from Canelli Italy, which is aged for one year in oak casks. The second, a botanical extract developed by Martini's Master Herbalist, Ivano Tonutti, is a recreation of a 1904 recipe known as 'extract 94' and this rests in small demijohns for eight years. These two extracts are blended with two of Italy's best known wines Barbera red wine from the Piedmont region of Northern Italy and Trebbiano white wine from neighbouring Emilia-Romagna by Master Blender Giuseppe Musso. (Martini's winery and distillery in Pessione lies in the Piedmont region.)
Review and Tasting
Sampled on 08/07/2013
Appearance:
Clear, deep burgundy red.
Aroma:
Aromatic and complex. Heavy Barbera red wine notes are enlivened with orange zest, cinnamon, nutmeg, black pepper and clove.
Taste:
Starts sweet by quickly dries. Velvety and intense red wine notes form the base of this luxurious aperitif with layers of herbal spice (cinnamon, nutmeg, clove and black pepper) mixed with dark chocolate, orange zest, lavender, vanilla and red berry fruit.
Aftertaste:
Quinine dryness and spice lingers with earthy red berry fruit and zesty orange.
Product Information
Barcode UPC: 5 010677 633321
Bottle Size: 700 ml
Closure: Screw / Stelvin cap

More about Martini Gran Lusso