Product of:

Mexico
Suerte (meaning 'luck' in Spanish) is a 100% agave tequila traditionally made in the Highlands' Los Altos region using brick ovens, Tahona wheel shredding and double stainless steel pot still distillation. Suerte Reposado is aged in American oak ex-bourbon barrels for seven months.
Inspired by the Mexican legend of the 400 rabbits, the imagery behind the Suerte brand was designed by Tattoo Artist Adam Jackson. Aztec mythology as it that Mayahuel, the goddess of the agave plant and of fertility, gave birth to Patecatl's (also a pulque god) children – all 400 of them. Legend has it that Mayahuel suckled the Centzon Totochtin (400 Rabbits) from her numerous tequila-filled breasts.

Review and Tasting
Sampled on 01/09/2013
Appearance:
Clear, very pale straw yellow.
Aroma:
Pungent, dusty, wet cement and vanilla with white pepper and nutmeg spice.
Taste:
Slightly sweet roasted agave, cracked red pepper corns, spicy dry oak and butterscotch.
Aftertaste:
Dry, gently spiced finish with lingering agave and faintly smoky dry oak.
Product Information
Barcode UPC: 8 51738 00401 9
Bottle Size: 700 ml
Closure: Synthetic stopper

More about Suerte Reposado
Tequila classifications, categories & classes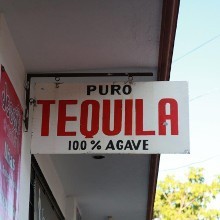 There are two main classifications of tequila, 'Mixto' and '100% Agave'. These two categories of tequila are further categorised according to whether or