El Tequileno Especial Gran Reserva Reposado
Product of:

Mexico
This 'Especial Gran Reserva' 100% agave reposado is aged a minimum of 11 months - some months more than El Tequileño's standard 100% agave reposado. El Tequileño adds medium toast wood chips from Kentucky - the same barrels used to age their standard reposado tequilas.
El Tequileño was launched 1st January 1959 by Jorge Salles Cuervo. He came from a family already connected to the tequila industry and had himself since 1941, producing tequila for Casa Cuervo at his two distilleries 'La Guarreña' and 'La Regional', both located in the town of Tequila.

Today El Tequileño has its own agave fields in the highlands of Jalisco, mainly close to the towns of Atotonilco & Tototlan. Once harvested, the agaves are transported to La Guarreña, the more modern of the company's two distilleries, where they are cooked in autoclaves. (La Regional distillery is now mostly used as a compost plant.) El Tequileño tequilas are doubled distilled in copper pot stills and bottled by a plant in Guadalajara.
Review and Tasting
Sampled on 29/04/2011
Appearance:
Clear, golden.
Aroma:
Herbal vanilla with new leather aromas.
Taste:
With over 11 months of age this is very nearly an añejo and it has the vanilla, oaky flavours you'd expect from such a spirit but intriguingly boasts the herbal, vegetal agave notes of a reposado.
Aftertaste:
This oak/agave balance continues through the lingering finish.
Product Information
Closure: Screw / Stelvin cap

More about El Tequileno Especial Gran Reserva Reposado
Tequila classifications, categories & classes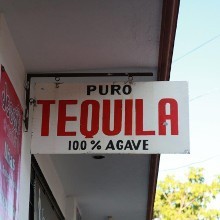 There are two main classifications of tequila, 'Mixto' and '100% Agave'. These two categories of tequila are further categorised according to whether or