Port Charlotte Scottish Barley
Product of:

United Kingdom
Distilled from heavily peated (40ppm) Scottish Barley at Bruichladdich Distillery, then aged just along the coast at Port Charlotte in the buildings that remain from the long-defunct distillery, before returning to Bruichladdich for bottling.
The first release of Port Charlote by Bruichladdich was in 2006 and was known as PC5, a reference to its being aged in Port Charlotte for five years. Subsequent releases saw a PC6 in 2007, PC7 in 2008, PC8 in 2009 etc.

Review and Tasting
Sampled on 10/11/2013
Appearance:
Clear, mid golden amber.
Aroma:
Buttery barley, salted caramel, pungent vegetal peatiness, baked apple and rhubarb pie dusted with nutmeg and cinnamon spice. Water brings out seashore salty aromas.
Taste:
Very peaty and salty with strong vegetal notes, smokiness, rhubarb and an underlying honeyed sweetness.
Aftertaste:
Long, salty, smoky vegetal finish.
Product Information
Closure: Natural cork stopper

More about Port Charlotte Scottish Barley
Whisky - Peated Scotch whisky cocktail recipes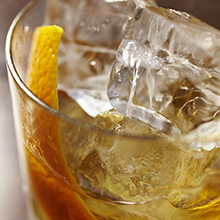 View 76 Whisky - Peated Scotch whisky recipes on Difford's Guide