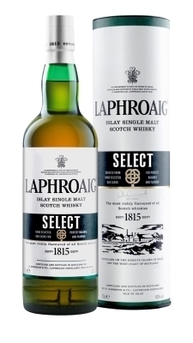 Product of:

United Kingdom
Laphroaig Select is finished for 6 months in new American oak casks placed in the highest, warmest reaches of Laphroaig's warehouses over the summer months, after initial aging in a mix of PX seasoned hogsheads, Quarter Casks and Triple Wood (European oak casks) with a final addition of 10 year old.
Introduced in May 2014, Laphroaig Select (no age statement) becomes part of Laphroaig's permanent global range.

Bottled without the addition of caramel colour.
Review and Tasting
Sampled on 29/12/2014
Appearance:
Clear, light golden amber.
Aroma:
Lightly smoked bacon, tobacco leaf and overripe banana with toasted almonds and walnuts.
Taste:
Assertive but approachable peat smoke, buttery almond croissant, vanilla and blackened banana with mild nutmeg and clove spice.
Aftertaste:
Smoky bacon, biscuit and black pepper spice. Overall: Virgin oak finishing appears to tame peaty smoke.
Product Information
Barcode UPC: 50 10019 63752 9
Bottle Size: 700 ml
Closure: Natural cork stopper

More about Laphroaig Select
Whisky - Islay single malt Scotch whisky cocktail recipes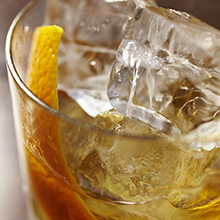 View 66 Whisky - Islay single malt Scotch whisky recipes on Difford's Guide