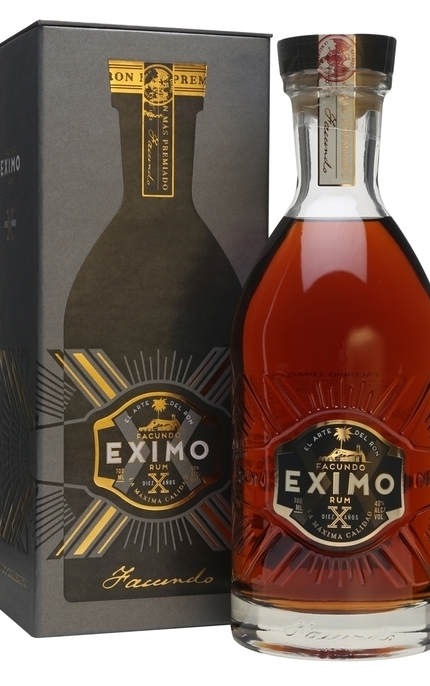 Buy direct from
The Whisky Exchange
Bottle size: 70cl

Product of:

Puerto Rico
Part of Bacardi's Facundo Collection, named after founder Don Facundo Bacardi Masso, Eximo (meaning to be free) is a blend of rums vatted prior to ageing in American white oak barrels for a minimum of 10 years.
Some of the rums were already 1-2 years old at the time of vatting so some of the rums in the finished product have been aged 12 years.
Review and Tasting
Sampled on 27/04/2016
Appearance:
Clear, deep coppery amber.
Aroma:
Plump raisin, burnt raisin and sultana, vanilla, overripe banana, mocha coffee, dark chocolate and pistachio with Christmassy spice (nutmeg, cinnamon and black pepper).
Taste:
Rich raisiny fruit cake, dry oak tannins, dark chocolate, coal dust, tobacco, nougat and vanilla with buttery richness and Christmassy spice.
Aftertaste:
Toasty raisiny fruit, coal dust, vanilla and Christmassy spice with faint chocolate and tobacco.
Overall:
Rich raisiny fruit cake, vanilla, nougat and buttery richness, beautifully balanced by dry oak tannins, bitter chocolate and Christmassy spice. A very special sipping rum.
Buy direct from
The Whisky Exchange
Bottle size: 70cl

Product Information
Barcode UPC: 0 80480 00402 6
Bottle Size: 700 ml
Closure: Natural cork stopper

More about Facundo Bacardi Eximo