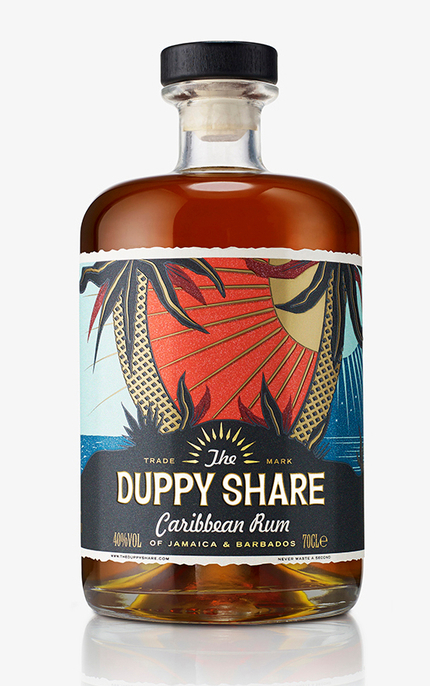 Product of:

Netherlands
Blended in the Netherlands and bottled in the UK, The Duppy Share is a blend of 5 year old rum from Foursquare, Barbados and pot still Jamaican rum from Worthy Park Distillery. According to Caribbean folk lore Duppies are spirits that consume the rum which evaporates from aging casks.
Designed by London's B&B Design, the colourful label artwork was inspired by travel posters from the thirties and 1940s.
Review and Tasting
Sampled on 08/02/2018
Appearance:
Deep golden amber.
Aroma:
Pungent. Dried tropical fruit, fruit cake, nectarine, apricot, honey, vanilla, buttery, chamois leather, cinnamon and nutmeg. Faint funkiness.
Taste:
Full-bodied, buttery and lightly funky. New leather, buttery toasty oak, dried apricot, dried mango and vanilla with nutmeg and cinnamon spice.
Aftertaste:
Buttery oak, Dried fruit, fruit cake, new leather and vanilla with generous spice.
Overall:
Generous and characterful with dried tropical fruit, fruit cake, buttery toasty oak, vanilla and enlivening spice. Fairly dry in character compared to some other aged rums, Duppy Share is a sippable rum with a character that shines through in cocktails.